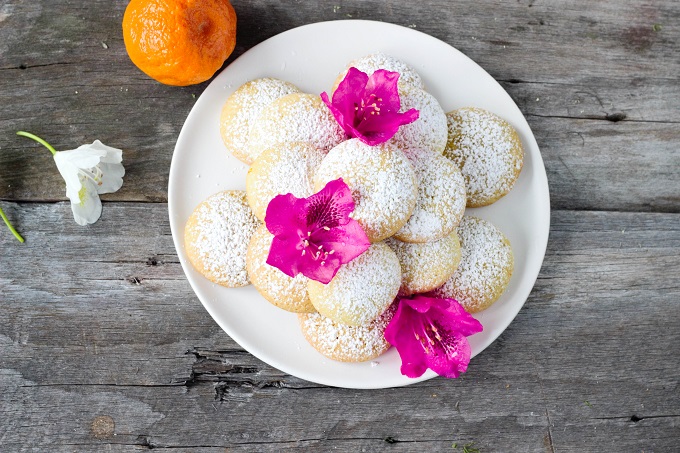 I had a few extra tangerines lying around the kitchen, so I decided to make tangerine cookies! It was the best baking decision that I have ever made and these sweet treats have quickly become my new favorite cookies.
I wanted to capture the bright flavor and energizing scent of tangerines in each bite of these cookies, so I added the zest and juice of tangerines to the cookie dough. The result was a soft and chewy cookie that was scented with the sweet fragrance of freshly picked ripe tangerines on a sunny day.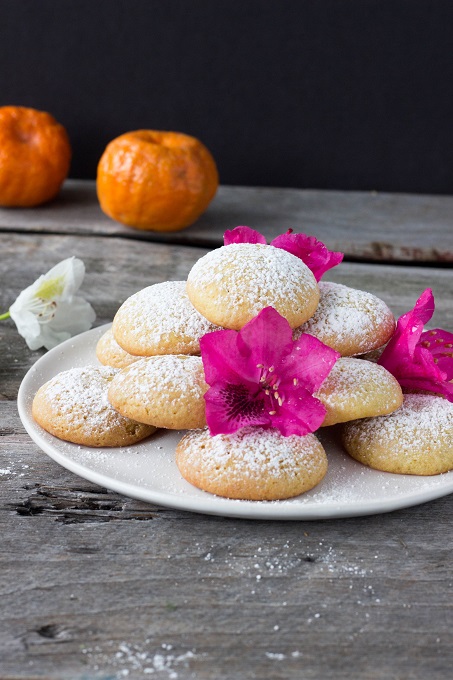 The delicate taste of these soft cookies reminds me of a dessert that would be served at a fancy tea party. "Would you fancy some tangerine cookies with your cup of tea, my lady?"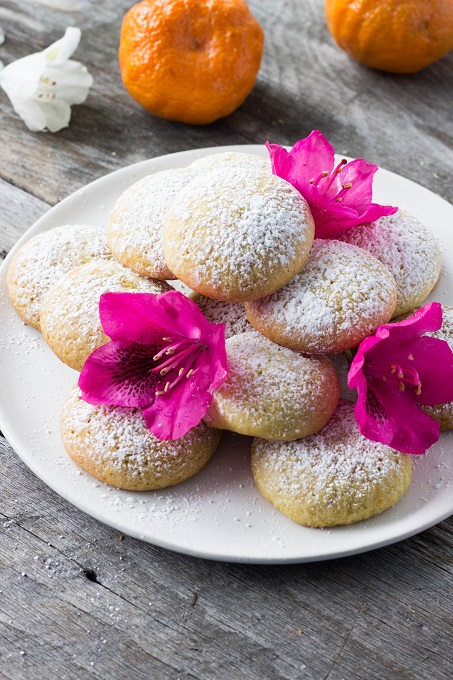 I hope that you fall in love with these delicious tangerine cookies!
Vanilla Tangerine Sugar Cookies notes:
-If you have a mixer, use cold butter to cream the butter and sugar together. That way you do not have to chill the dough before baking.
-If you do not have a mixer, use room temperature butter to cream the butter and sugar by hand. After you mix all of the ingredients together, you must chill the cookie dough for at least an hour or else the cookies will not bake properly.

Vanilla Tangerine Sugar Cookies
Ingredients
1 cup + 1 tbsp all purpose flour (scooped and leveled)
½ tbsp cornstarch
¼ tsp baking soda
⅛ tsp sea salt
6 tbsp butter
½ cup + 2 tbsp organic cane sugar
zest of one tangerine
1 large egg
1 tbsp tangerine juice
½ tsp vanilla extract
½ tsp orange oil
powdered sugar
Instructions
Preheat oven to 350 degrees F.
Whisk flour, cornstarch, baking soda and salt together and set aside.
Cream together butter, sugar, and zest until smooth and fluffy. Add the egg and mix. Add juice and extract and mix.
Slowly mix in dry ingredients and stir until just combined. Do not overmix or else the cookies will be dense.
Chill the cookie dough in the refrigerator for a minimum of one hour.
Line a cookie sheet with parchment paper. Using a scoop (I used my 1 tablespoon sized measuring spoon), scoop the dough into balls and place onto the cookie sheet, spacing them out evenly.
Bake in the oven for approximately 10 minutes (or until the edges start to turn golden brown). Let cool.
Dust with powdered sugar and store in an airtight container.