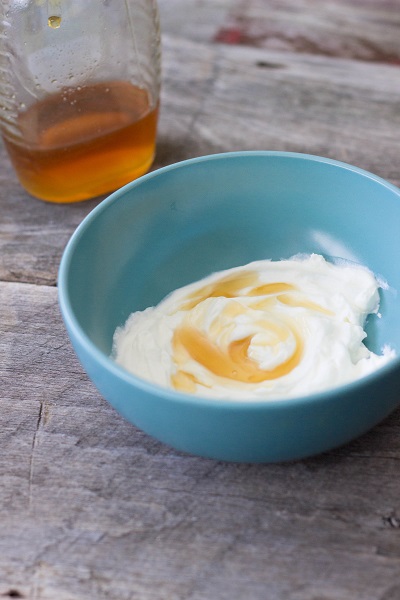 My face was looking a little dull due to the harsh winter weather, so I pulled out my go-to ingredients for skincare: Greek yogurt and honey!
This classic combination works like a charm. The lactic acid in the yogurt and the glycolic acid in the honey – both of which are used at higher concentrations in fancy peels at the dermatologist's office – gently sloughs off old skin cells and reveals fresh, glowing skin underneath. Honey also moisturizes the skin and kills bacteria.

Mix these two superheroes together for fresh, glowing skin. This anti-aging face mask is as simple as that!
I first tried this recipe with Icelandic yogurt, just to be cool (no pun intended). It backfired.
Tanney: "Why is your face red?"
Josie: *runs to bathroom and checks the mirror* "Oh crap!!!!!"
Tanney: "You look like a tomato"
Did I mention that I tried this face mask with sheep's milk yogurt too and loved it? I think I'm becoming a yogurt connoisseur by slathering all different types on my skin. What can I say? I am willing to sacrifice my skin in the name of science. Just to clarify, Greek yogurt didn't turn my skin red. I don't know what the Icelanders put in their yogurt compared to the Greeks…

Yogurt Honey Face Mask notes:
-I would recommend doing a patch test on your skin first to make sure that there is no irritation
-Raw honey is best, since processing the honey reduces its antiseptic and nutritional benefits
-I used full fat yogurt, since the fat actually helps soothe and protect the skin.

Greek Yogurt Honey Face Mask
Ingredients
2 tsp full fat Greek yogurt
1 tsp raw honey
Instructions
Mix Greek yogurt and honey together in a small bowl. Apply to the face and let the mask dry. Rinse off gently with water afterward.