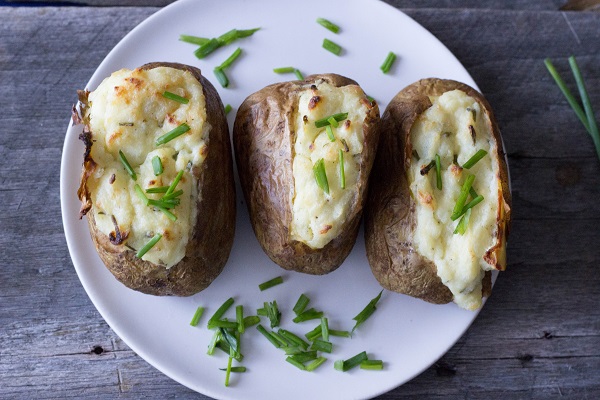 I just can't explain it. Winter always turns me into a meat and potatoes kind of gal, which surprises everyone in my family, including myself. Outta nowhere, I- a self proclaimed kale lover- suddenly find myself craving savory lamb kebabs and creamy potato soup. WHAT?!?! Where did this come from? Maybe it's a survival of the fittest thing. The warmth of classic comfort food offsets the cold, bleak weather outside.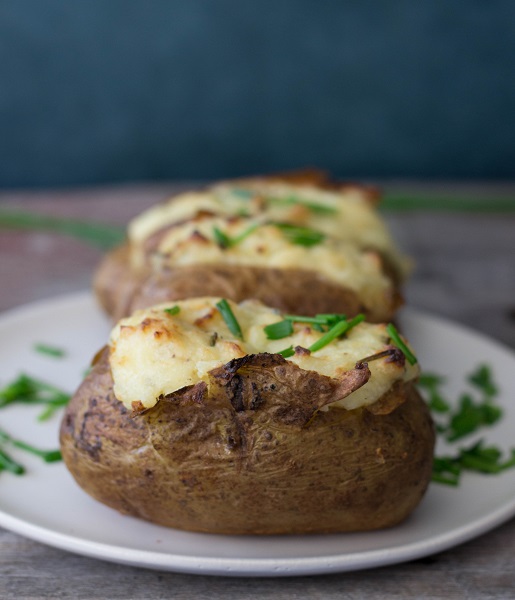 These twice baked potatoes are pretty easy to make and incredibly hearty.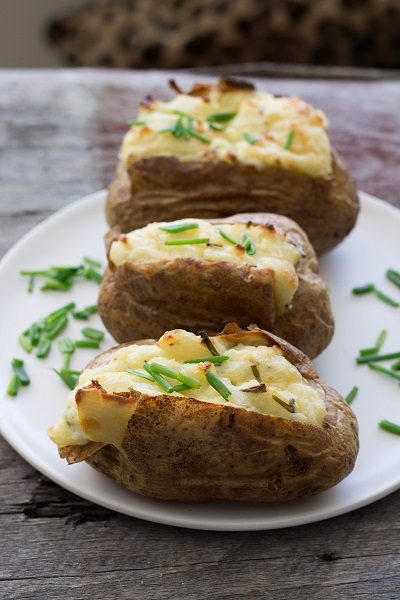 Tanney: "These potatoes are so awesome that they weren't baked just once, they were baked twice. They're super potatoes!"
If you like this recipe, you might fall in love with our Shepherd's Pie Pockets.
Twice Baked Potatoes notes:
-Feel free to load up these potatoes with your favorite toppings. Gooey melted cheese sounds great!
-This recipe for twice baked potatoes with cauliflower and cheese from NY Times Food sounds yummy.

Twice Baked Potatoes
Ingredients
1 tablespoon olive oil
8 small russet potatoes (approx 2.5 lbs), scrubbed
¼ cup milk
1 cup sour cream
3 tbs unsalted butter
¼ cup fresh chives, diced, plus a few extra for garnish
Salt and pepper to taste
Instructions
Preheat oven to 400 degrees F. Lightly coat the potatoes with oil and place them on a baking sheet lined with parchment paper. Bake for approx 45 minutes, until the potatoes are easily pierced with a fork.
While the potatoes cool, combine the remaining ingredients together in a large bowl.
Cut a thin rectangular slice off the tops of the potatoes after they have cooled. Scoop out as much flesh as you can, leaving a bit of flesh around the edges of the potatoes so that they hold their shape. If it is not easy to scoop out the flesh, they need to be baked longer in the oven. Place the flesh into the bowl with the other ingredients, and mash everything together with a fork. Spoon the mixture back into potato skins.
Bake in the oven once more until the potatoes are slightly browned on top, approx 25 minutes. Garnish with fresh chives and you're done!