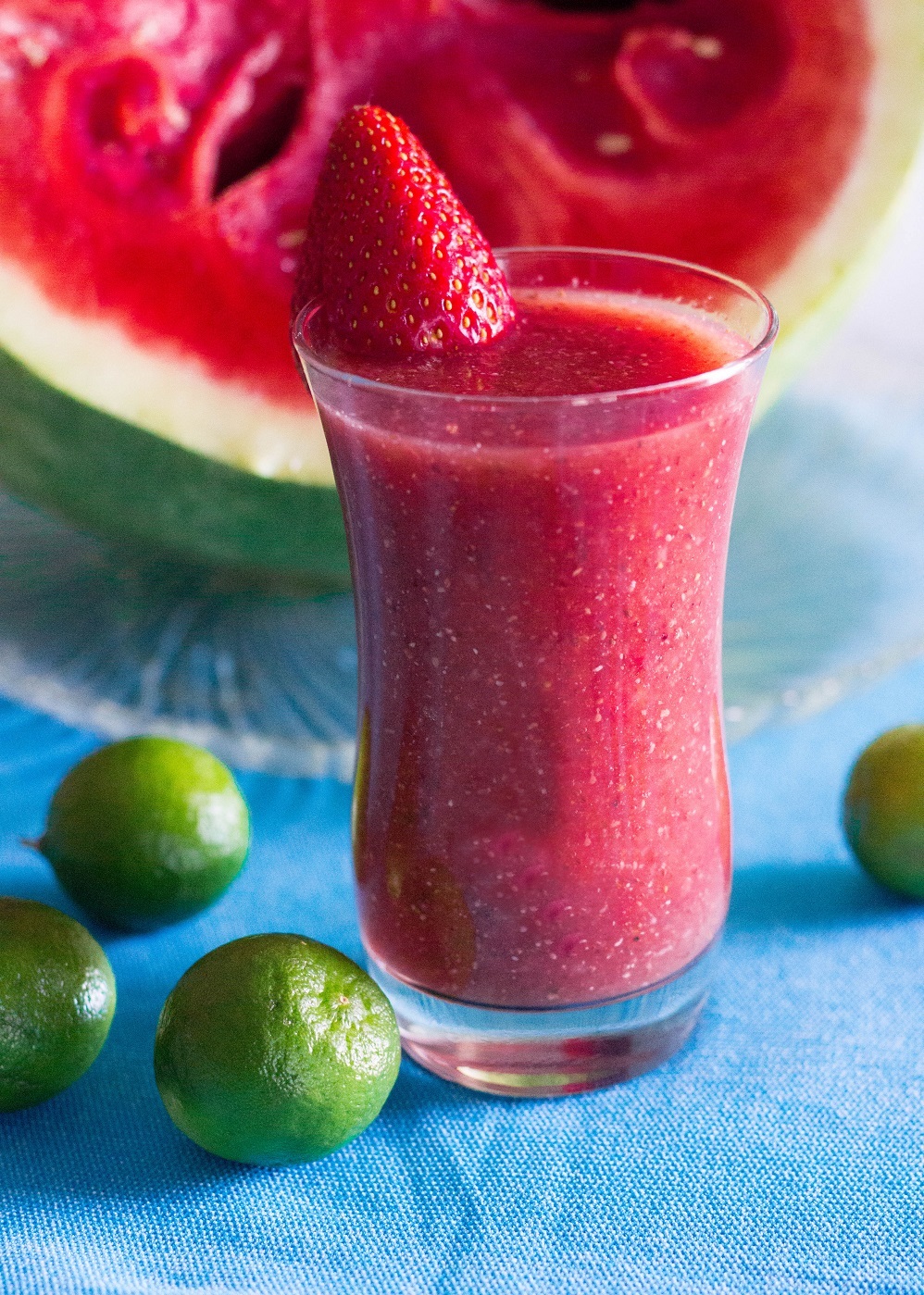 I saw chia seed smoothies at Whole Foods the other day! The drinks looked so colorful and refreshing, but they were a bit too expensive to splurge on. Although I forced myself to walk away from the drink aisle, I kept dreaming of them at home. I know, I know, normal people don't usually dream about chia drinks.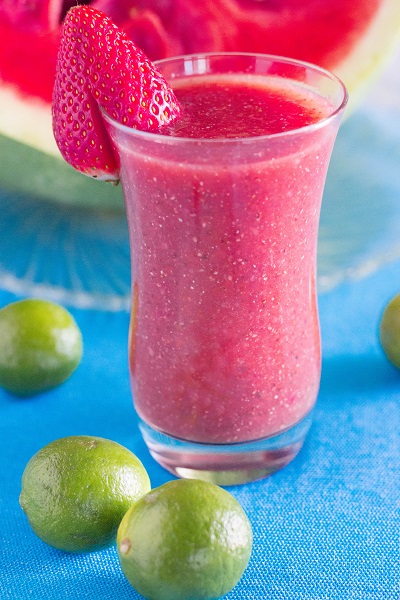 Since I couldn't get the intriguing drinks out of my head, I decided to take matters into my own hands and make my own watermelon chia seed smoothie at home! Chia seeds love to soak up and hold in water, so I figured pairing it with a juicy watermelon would be a match made in hydration heaven. By the way, it's so cool to watch the chia seeds expand when they absorb water! You know, like those "just add water" sea monkeys that we used to play with as kids? Okay, okay, I admit that I need to get some new hobbies if I'm sitting around watching chia seeds. Lastly, to get this chia party started, I tossed in a few strawberries and splash of lime juice into the mix!
Have you ever tried a chia seed smoothie before? What are your favorite flavors?
Simple Strawberry Watermelon Smoothie notes:
-Chia seeds have omega 3 fatty acids. By the way, if you're interested in omega 3s, be sure to read our  post on fish oil supplements.
-Chia's gelatinous coating can form a barrier in your gut, which may help prevent blood sugar spikes.
-If you're a fan of chia, check  out our peanut butter chia pudding recipe! Ben and Jerry's would call it "Chunky Monkey Chia Pudding!" It doubles as either breakfast or dessert.
If you haven't already, get our free Super Smoothies E-Book filled with tons of delicious recipes here. Promotion for the free ebook has ended, but there will be plenty of smoothie recipes on our website in the future!


Simple Strawberry Watermelon Smoothie
Ingredients
1 tbsp lime juice
2 cups watermelon chunks
1 cup strawberries
4 tsp chia seeds
1 inch ginger
1.5 tsp maple syrup (or to taste)
Instructions
Blend all of the ingredients together.
Serve in a glass filled with ice!