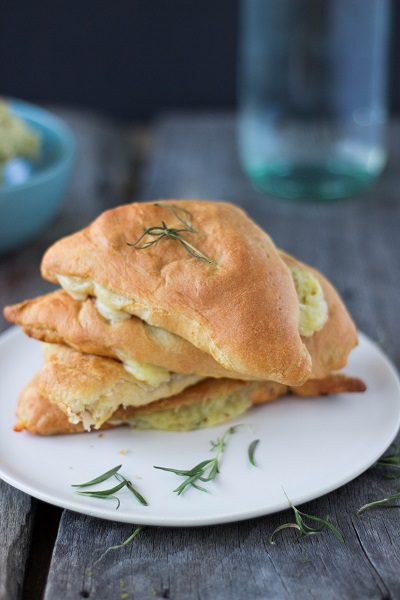 I was craving something warm and hearty today. A cold salad just doesn't sound appetizing in the middle of winter- I need something that sticks to the ribs!
Enter shepherd's pie… now we are talking.
I was inspired to create these shepherd's pie pockets based on traditional British pasties, which are savory hand-pies that are stuffed with steak and potatoes. Many Europeans pack a few hand pies in their lunchbox for a filling meal. I loved the idea of making shepherd's pie portable so that I could enjoy this comfort food anytime, anywhere!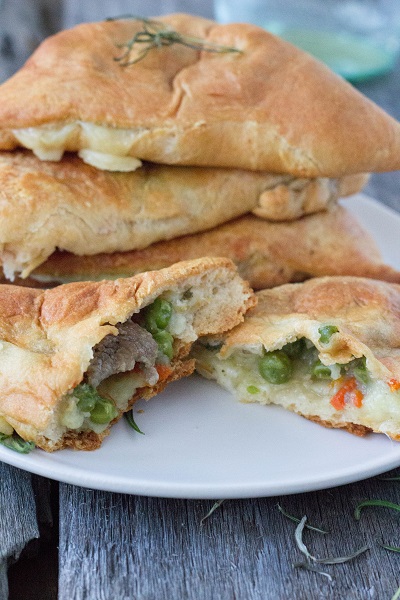 These lamb shepherd's pie pockets taste as good as they look- soft, pillowy bites of mashed potato and lamb goodness. You will love every bite.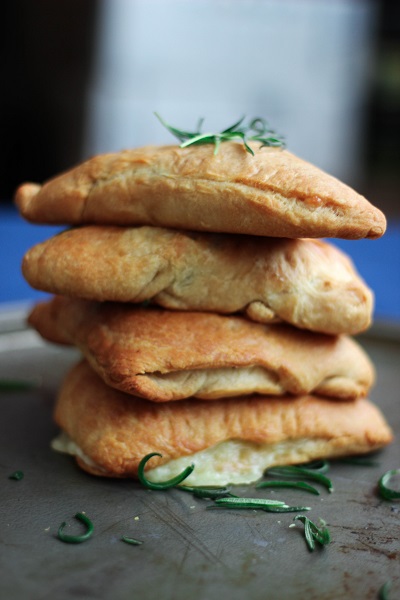 Tanney: "It's like a shepherd's pie in portable form. I feel like packing one of these in my lunchbox."
Josie: "You don't have a lunchbox anymore."
Tanney: "I can buy one, just so I can take these pie pockets to work everyday." *googles Star Wars lunchboxes*
Shepherd's Pie Pockets notes:
-Try to get "100% grass fed lamb" if possible. Be careful if the label just says "grass fed" instead of "100% grass fed," since producers can claim that the lamb was grass fed even if it just spent a few minutes nibbling on a blade of grass. The best is to find producers certified by the American Grassfed Association in your state.
-Organic lamb has more nutrients and has a lower risk of ingesting contaminated feed.
-Try to get organic potatoes since they are mentioned on the Environmental Working Group's "Dirty Dozen," which is a list of the top fruits and veggies containing pesticide residues.
-These pie pockets freeze well!
-If you like this recipe, check out our Twice Baked Potatoes.

Shepherd's Pie Pockets
Ingredients
1 lb lamb stew meat
1 tsp cumin
2 medium sized waxy potatoes
½ tsp garlic powder
4 sage leaves
1 cup frozen peas and carrots, thawed
1 sprig rosemary
scant ¼th cup milk
1 tablespoon butter
pepper to taste
salt
6 slices cheddar cheese
ready made crescent rolls
Instructions
Place cumin, garlic powder, sage, peas, carrots, rosemary, and ¼ tsp salt together in a pan and saute on medium heat until the vegetables are tender. Add the lamb into the pan. Once the lamb has cooked, set the pan aside and let it cool.
Pierce the potatoes with a fork, place in a large covered bowl, and microwave until the potatoes are soft, approximately 7 minutes. Add milk, butter, pepper, and ½ tsp salt to the potatoes, and whisk until smooth.
Unroll the crescent rolls into four rectangles. Layer the mashed potato, lamb mixture, and a slice of cheddar cheese onto half of the crescent roll, and then fold the other half of the crescent roll over to make a pocket. Feel free to stretch the dough a bit to hold all of the filling. If a tear develops, plug it with extra dough from the corners. Seal the edges with a fork.
Bake the pockets for approx. 10 minutes or until they are golden brown.