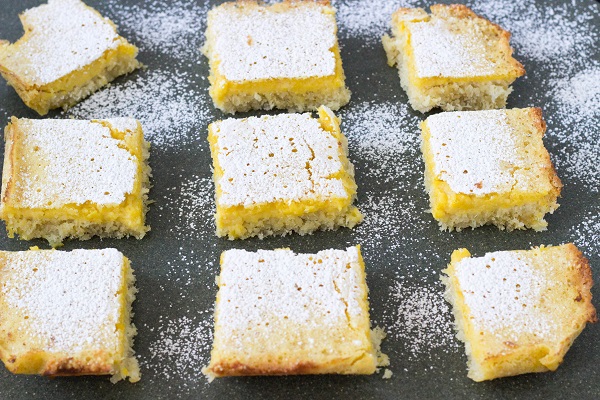 Lemon coconut bars?! Count me in!
With a little bit of sweet and a little bit of tart, these sunny lemon coconut bars are the perfect winter pick-me up.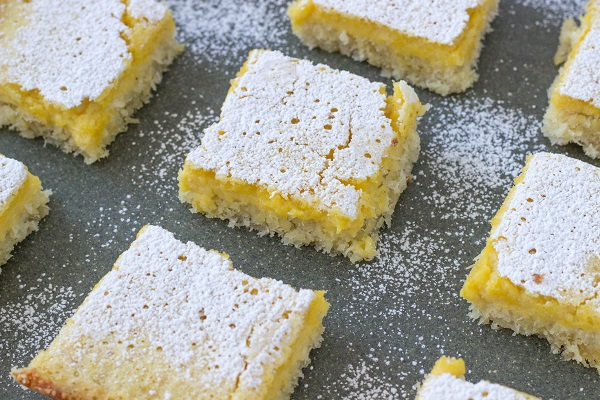 Going with the spirit of these light and lively bars, I cut out the heavy butter and white sugar in the filling- don't worry, they are still mouth watering!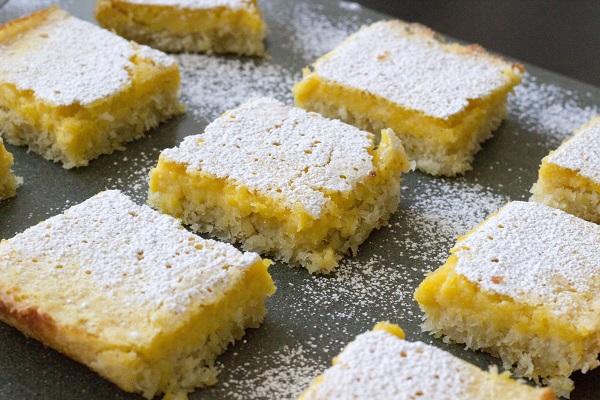 My sis was skeptical at first because she hates coconut, but then I won her over. She thought that the crust tasted like shortbread and the filling was similar to a lemony custard.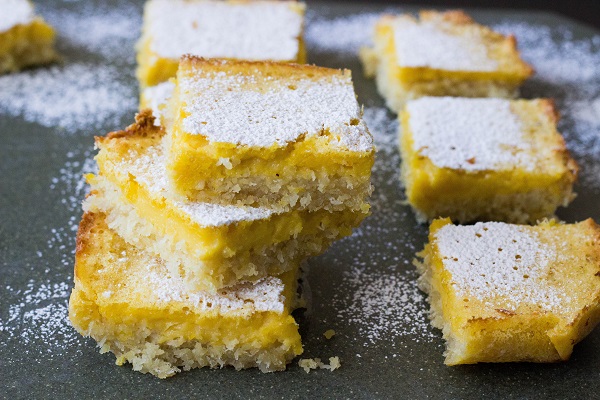 What kind of goodies do you like to make with winter citrus?
Lemon Coconut Bars notes:
-These bars are best eaten warm, straight from the pan! If you store them overnight, the crust soaks up all the moisture and gets a bit spongy. Still delicious though!
-Lemons can protect against cancer. Out of eleven fruits, lemons were the second best (after cranberries) to stop liver cancer cells from growing.

Lemon Coconut Bars
Ingredients
4.5 tbsp 100% pure maple syrup
2.5 tbsp coconut oil
1 cup shredded coconut
dash of sea salt
½ cup almond flour
2.5 eggs
8 tsp lemon juice
½ tbsp lemon zest (approx. 1 lemon)
8 tsp almond flour
Powdered sugar, for garnish
Instructions
Preheat the oven to 350°F.
Place the coconut oil in a pan on low heat. Once it has melted, add 1.5 tbsp maple syrup, coconut oil, shredded coconut, sea salt, and ½ cup almond flour. Mix thoroughly and remove the pan from the heat. Add 1 egg white (save the yolk for step 2 below) to the mixture while stirring.
Pour the sticky mixture into a baking dish lined with parchment paper and flatten it against the paper to make the crust.
Bake the crust for approx 10 minutes, remove it from the oven, and let it cool.
To make the filling, mix 1.5 eggs along with 1 egg yolk in a mixer until they become frothy. Add the lemon juice, lemon zest, remaining almond flour, and 3 tbsp of maple syrup. Whisk for another minute until all the ingredients are evenly incorporated.
Pour the filling over the crust and bake for another 15 minutes until edges turn light brown and filling becomes firm.
Let the bars cool and then dust with powdered sugar!