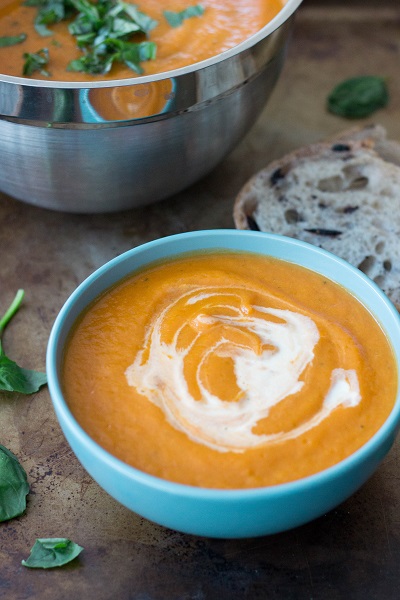 The title of this soup doesn't give it justice. "The Most Amazing Soup Ever" is more like it!
At first glance, you might think carrots… tomatoes… whatever. But as a friend, let me tell you to stop right there. If you don't try this soup, you are missing out. My sister and I LOVED this soup and could easily eat it every day. Tanney isn't much of a soup person, except for clam chowder, but she finished her bowl and asked for another one.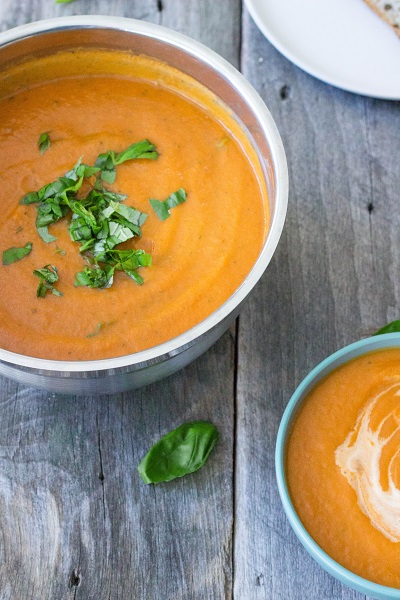 Real-time thoughts after eating this soup:
Tanney: "We can post this on Tomato Tuesday."
Josie: "What's Tomato Tuesday"
Tanney: "I don't know, I just made it up. Maybe it can be a day celebrating tomatoes, duh."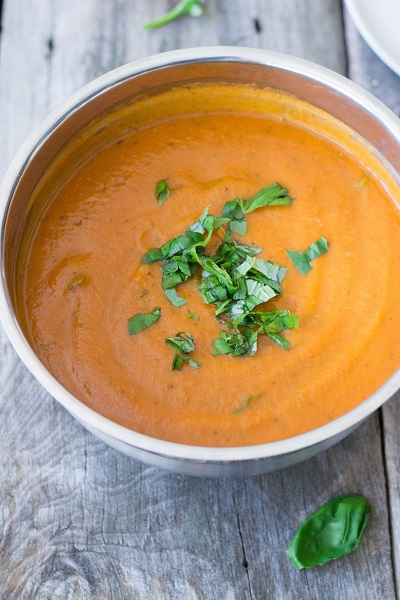 We nicknamed this recipe glow soup, because our skin literally glowed the next day from the nutrients of the veggies and the bone broth.

Adding a touch of cream at the end makes the texture of the soup silky smooth and makes it look fancy, fancy.
Tanney: "Why does it look like there's a UFO floating on top of my soup?"
Josie: "That's supposed to be a rose."
Enjoy this carrot tomato soup, it's some good stuff!
Carrot Tomato Soup notes:
-We used our bone broth recipe to make this soup. So much tastier and healthier than the store bought kind! If you are short on time though, Pacific brand sells ready-made bone broth.

Carrot Tomato Soup
Ingredients
1 large onion, diced
3 cloves garlic, diced
5 carrots, peeled and sliced
1.25 lbs butternut squash, peeled and sliced into cubes
2 celery stalks, diced
2 cans (14 oz each) whole peeled tomatoes
5 cups bone broth
½ cup fresh cilantro leaves
½ cup fresh basil leaves
salt and black pepper, to taste
3 tbs butter
splash of cream
Instructions
Melt the butter in a large pot over low heat. Sautée the onions until translucent and golden brown, then add garlic, carrots, celery and squash, stirring vigorously until toasted. Add the tomatoes and broth and simmer covered with a lid for about 40 minutes, until the squash becomes tender. Remove from the heat and add the cilantro, basil, salt and pepper.
Puree in a blender in batches until smooth. Top with a splash of cream.