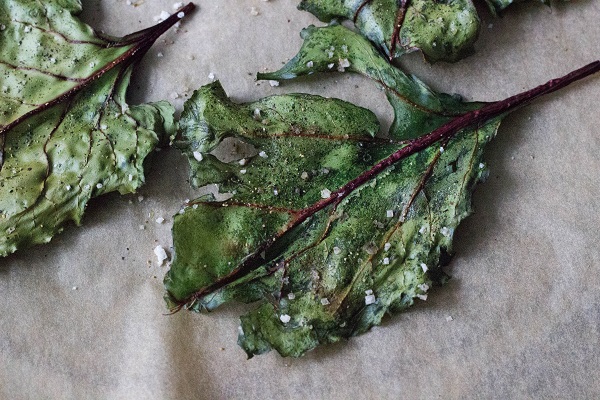 You've probably heard of kale chips, but I wanted to shake things up a bit and make chips out of beet greens instead because I'm a rebel like that.
This is a fun recipe if you bought a bunch of beets and aren't quite sure what to do with the remaining greens. Just drizzle the beet greens with a little olive oil, sea salt, and pepper, roast them in the oven, and voila- crispy beet green chips!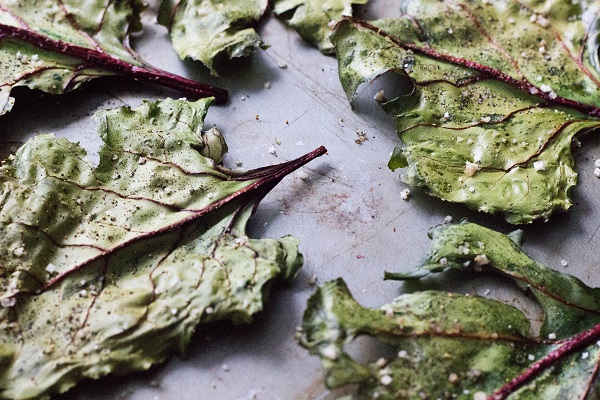 These chips are light, but pack a mean crunch. Serve them at a party for an eye-popping, unique appetizer.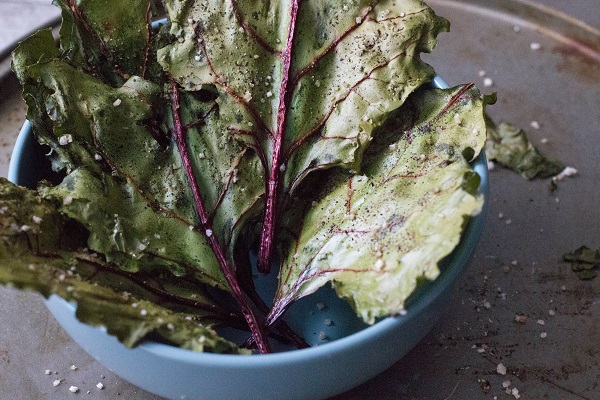 Tanney: "Why does it look like you picked leaves off a tree and roasted them? Josie, the urban forager."
Baked Beet Green Chips notes:
-I haven't made kale chips yet, but plan to try these Crisp Kale Chips with Chili and Lime from NY Times Food soon!
-Try our brown rice veggie bowl if you have leftover beets!
-Beets help the body's muscles get oxygen. Olympic athletes swear by their glasses of bright pink juice! Wish I knew this earlier… is it too late for me to become an Olympian?

Baked Beet Green Chips
Ingredients
1 bunch of beets greens
sea salt, to taste
olive oil
black pepper, to taste
Instructions
Pre-heat oven to 350 degrees.
Wash beet greens and dry them with paper towels. Snip the thick stems from the leaves with a scissor and discard them.
Lay the leaves on a baking sheet lined with parchment paper and lightly coat the greens with oil. Sprinkle salt and pepper on both sides of the leaves.
Bake for approx 5-10 minutes, flip the greens over, and bake for another 5 minutes or until the beet greens are crispy. Some ovens do tend to run hotter than others, so please check on the chips after every 5 mins to see if they're done.