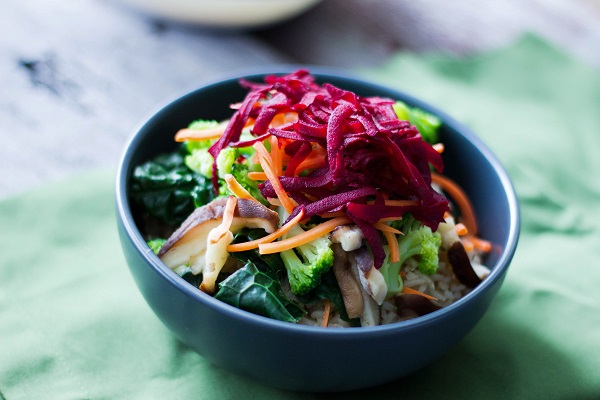 I decided to join my first book club a few months ago. It seemed like a good idea at the time, but the only problem was that I didn't get a chance to read the book before going…
Fortunately, the book club was held at a local vegetarian restaurant called Life Alive in Central Square. It was my first time there, and I was struck by the warm mustard yellow walls, eclectic decorations, and baristas serving up fresh pressed juices as customers waited in line to order. The place was packed and music was playing in the background. I was surprised that a book club meeting was being held at a place like this, but I wasn't complaining. If I could stuff my face with food, I wouldn't have to talk about the book!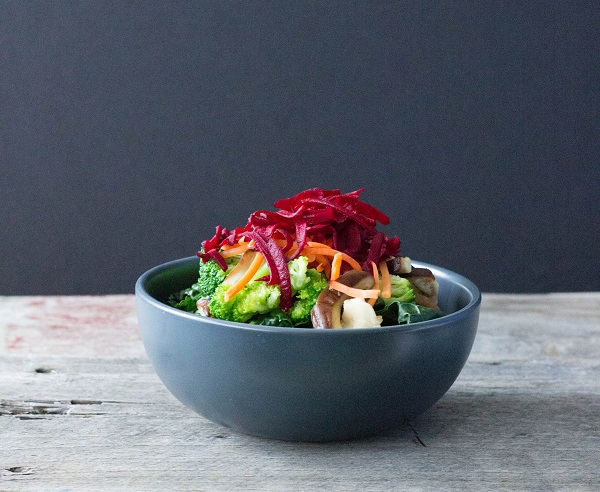 I ordered a dish called The Lover, which had steamed dark greens, shiitake mushrooms, beets, carrots, and broccoli served over brown rice, and instantly felt revitalized after eating it. Heck, even just looking at all of the fresh, brightly colored veggies made me feel healthy. And the best part was that it actually tasted good!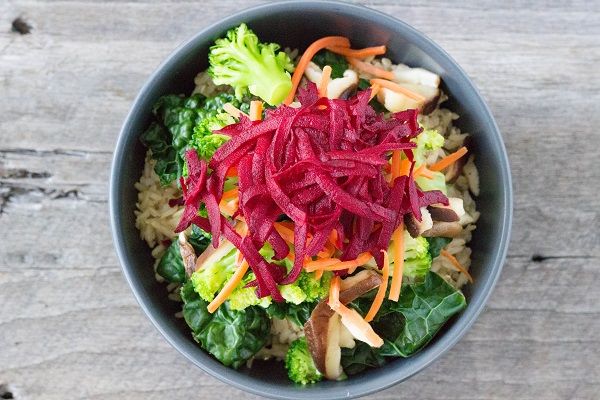 The key to the dish was the special sauce. According to the menu, it's a ginger nama shoyu sauce. I didn't know what nama shoyu was until I looked it up- turns out that it's a type of soy sauce.
I tried to recreate this dish at home, and despite blending up all sorts of combinations of ginger and soy sauce, I couldn't nail the exact taste of Life Alive's secret sauce! If my Boston friends are reading this, let me know if you have any suggestions.
This brown rice veggie bowl will leave you feeling super healthy, energized, and ready to face the world.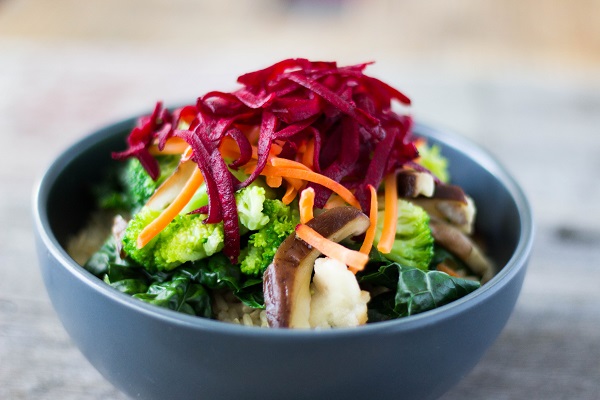 Brown Rice Veggie Bowl notes:
-Brown rice is a whole grain, which means that it has not been refined. The processing of white rice leads to fewer nutrients.
-Feel free to throw in your favorite steamed veggies.
-You can sprinkle some cheese on top of this brown rice veggie bowl.
-Steaming is an easy way to get the maximum nutrition out of most veggies.

Brown Rice Veggie Bowl
Ingredients
½ beet
1 carrot
handful of frozen broccoli
handful of kale leaves
handful of mushrooms
1 cup brown rice
2 garlic cloves
2 inches of peeled ginger
1 tbsp extra virgin olive oil
1 tbsp Nama Shoyu (or soy sauce)
2 tablespoons tahini
2 tbsp water
2 tbsp lemon juice
Instructions
Shred beets and carrots in food processor.
Steam all of the vegetables and cook the brown rice (I used my rice cooker to cook the brown rice and steam the vegetables, since my rice cooker came with a steamer tray).
To make the sauce, add the garlic, ginger, olive oil, soy sauce, tahini, water, and lemon juice to a food processor until it reaches the consistency of a smooth paste. Add more water if needed to reach your desired consistency.