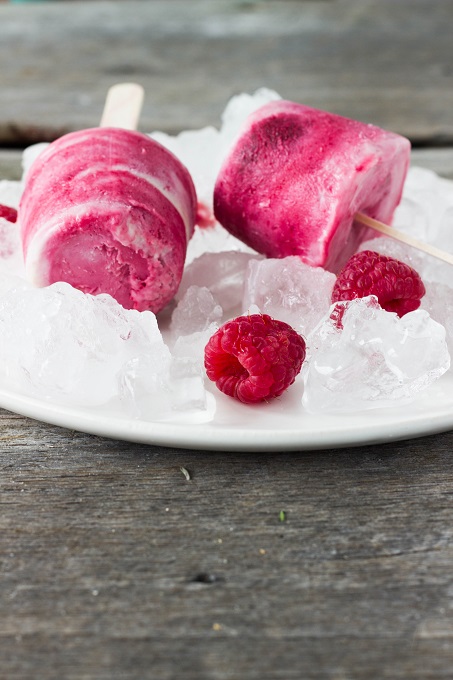 Grab a delicious white chocolate raspberry kefir popsicle, sit back, relax, and enjoy the simple pleasures of life.
Made with swirls of raspberry puree, white chocolate, kefir, and cream, these popsicles are sophisticated yet so simple to make. The tangy, refreshing, bright flavors of kefir and fresh raspberries are balanced by the sweet, warm notes of white chocolate. These popsicles are pure perfection.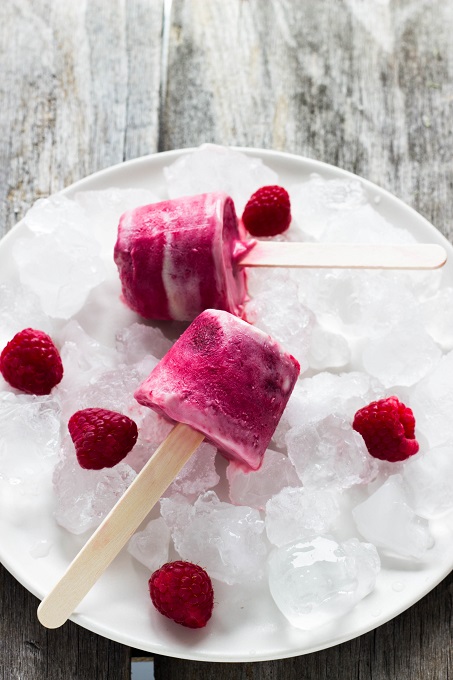 To this day, there's something magical about eating a popsicle. I feel the same bubbling excitement and sheer happiness with each bite that I felt when I was a kid eating a popsicle on a hot summer day.
These popsicles taste as creamy and luscious as they look, I guarantee that you will love them.
White Chocolate Raspberry Kefir Popsicles notes:
-I would highly recommend making these popsicles in dixie cups so you can easily peel away the wrapper and eat them frozen. I tried making them in traditional popsicle molds but because the white chocolate kefir mixture was so creamy, by the time I was able to extract them out of the molds, the white chocolate melted!
-Although these popsicles satisfy my sweet tooth, they also have a dose of probiotics from the kefir! These pops are a win-win!

White Chocolate Raspberry Kefir Popsicles
Ingredients
2 10 oz bags frozen raspberries
2 tbsp maple syrup
6 oz of white chocolate
6 tbsp cream
3 tbsp kefir
Instructions
Mix raspberries and maple syrup together and simmer on medium-low heat until the mixture begins to boil. Make sure to stir regularly to keep the berries from burning. When the berries burst and release their juice, remove from heat and let cool.
Strain the raspberries through a sieve into a small bowl. Discard the seeds.
In a separate bowl, microwave white chocolate and cream in 20 second intervals, stirring thoroughly after each interval (approximately 40 seconds). When the white chocolate melts and evenly incorporates with the cream, gently whisk in the kefir.
Spoon the white chocolate and raspberry puree into dixie cups (regular popsicle molds won't work well for these, see notes above), and with a butter knife, swirl until a pretty marbling pattern is achieved. Freeze for 1 hour and insert popsicle sticks, then freeze overnight or until solid.