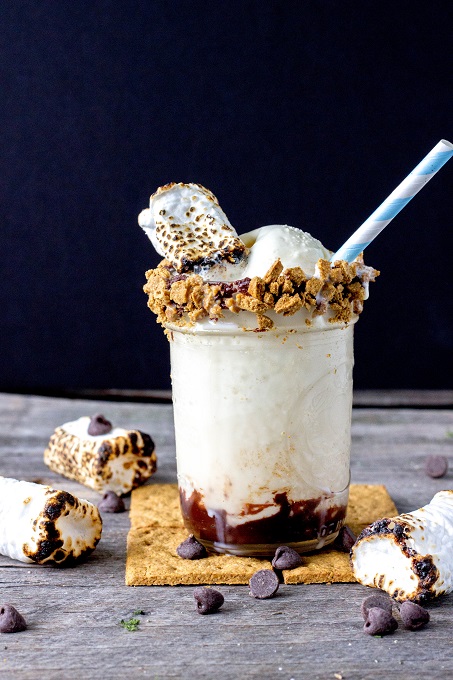 One of the best things about camping was sitting next to a crackling campfire, surrounded by the grand beauty of Mother Nature. All thoughts of spiders and bears vanished once it was time to make s'mores underneath the glistening night sky.
I will never forget the first time that I tasted a toasted marshmallow- the perfectly charred exterior that blanketed a gooey, pillowy soft interior was a simply magical combination. The marshmallow alone was amazing, but when it was smothered in chocolate and sandwiched between graham crackers, it was heaven on earth.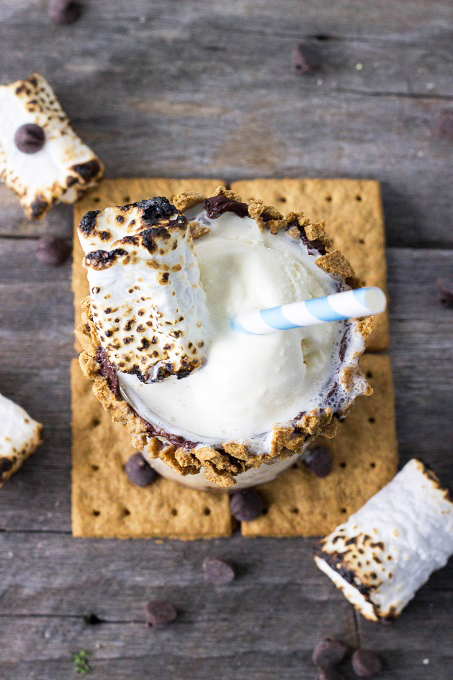 This s'mores milkshake is made with vanilla ice cream and toasted marshmallows and has a thick layer of rich fudge on the bottom. I rimmed the glass with dark chocolate ganache and graham cracker crumbs and topped the milkshake with another scoop of ice cream.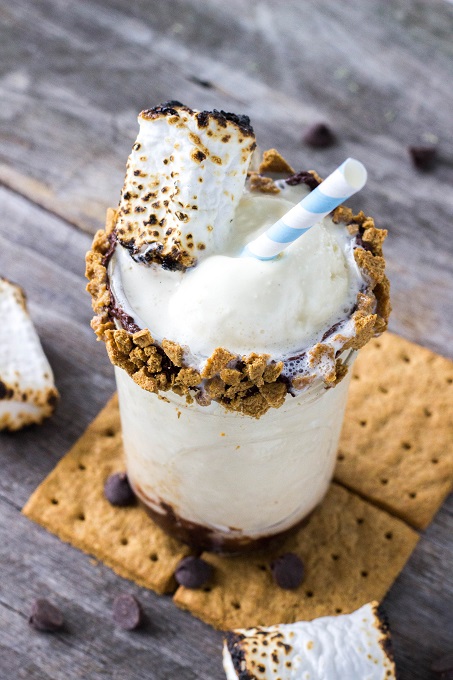 This is the most delicious milkshake that you will ever taste! Josie made me eat steamed greens afterwards, but this s'mores milkshake was totally worth the splurge!
S'mores Milkshake notes:
-You can substitute greek yogurt for the sour cream. However, sour cream gives it a smoother texture and adds just the right amount of tang so that's why we used it in this recipe.

S'mores Milkshake
Ingredients
1 cup milk
2 cups vanilla ice cream
½ tbsp sour cream
½ cup 65% cacao bittersweet chocolate chips
Jumbo marshmallows (we used half of a 7 oz bag)
¼ cup cream
graham crackers
Instructions
Spread all of the marshmallows except for 4 onto a parchment lined cookie sheet and broil until charred. Let cool and set aside.
Roast the remaining 4 marshmallows until lightly toasted and golden brown. Let cool.
Blend milk, ice cream, sour cream, and charred marshmallows until smooth.
Heat chocolate chips and cream in microwave in 10 second intervals until the chocolate begins to melt (takes about 20 seconds). Stir until smooth.
Layer milkshake and chocolate ganache in a glass. Top with a scoop of ice cream and toasted marshmallows.