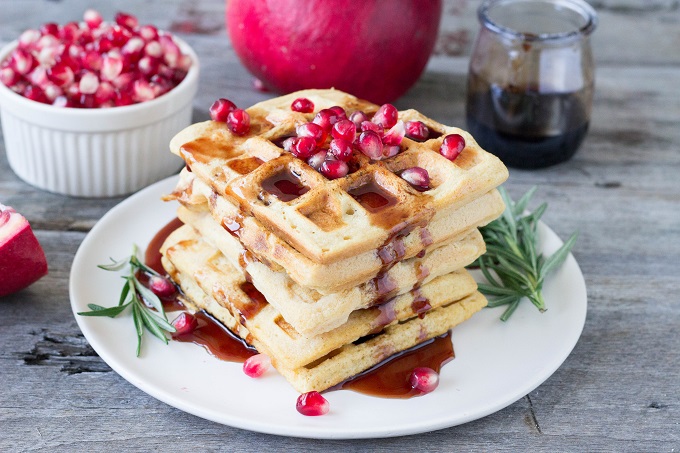 I know what you're thinking. Lentils? In waffles? Trust me, these lentil waffles are delicious.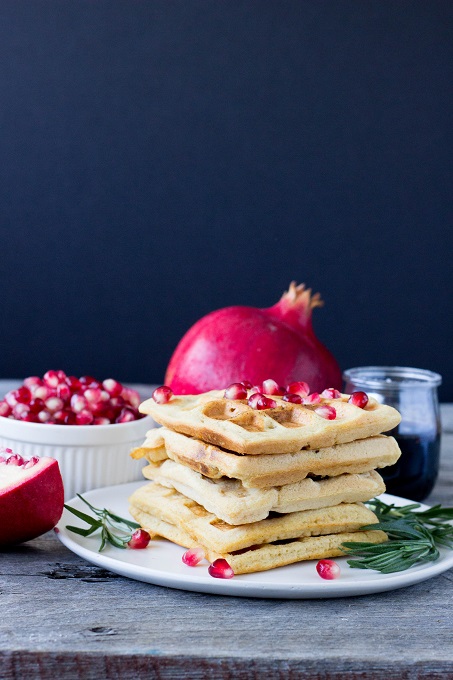 Don't these waffles look amazing? I bet that you wouldn't have guessed that there are lentils and chickpeas in them unless I spilled the beans (pun intended)! These waffles are a great way to sneak some lentils and chickpeas into your diet.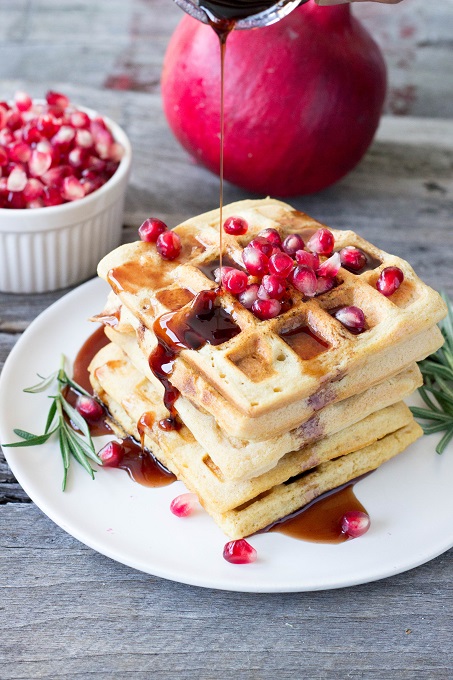 These lentil waffles taste best when drenched in rosemary pomegranate syrup. It's seriously the best syrup that I've ever tasted in my life. I infused maple syrup with pomegranate juice and a sprig of rosemary to create a thick, luxurious syrup that's bursting with flavor. You'll never want to go back to plain maple syrup again.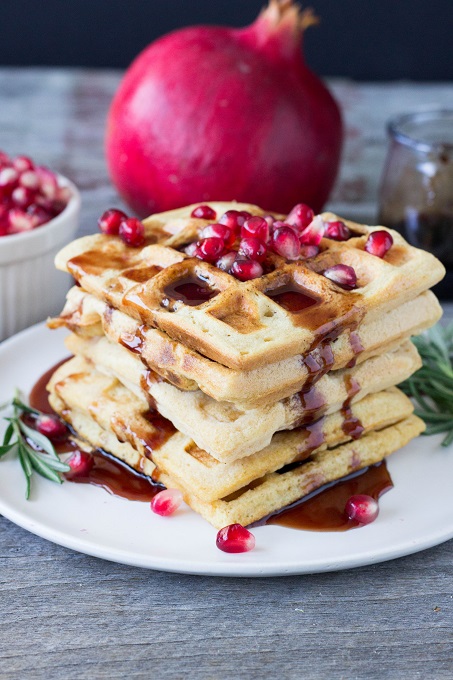 These lentil waffles are naturally gluten-free and vegan, so they are perfect to serve for weekend brunches – everyone will love them!
Red Lentil Waffles with Rosemary Pomegranate Syrup notes:
-It is better to make the syrup first so it can thicken in the fridge while you're making the waffles.
-The waffles are best eaten warm. Otherwise, they will firm up because they are packed with so much protein!

Red Lentil Waffles with Rosemary Pomegranate Syrup
Ingredients
1 cup lentils
½ cup brown rice
2 cups water
¾ cup chickpea (garbanzo bean) flour
½ tsp baking powder
1 tsp vanilla extract
½ cup sugar
3 cups pomegranate juice
6 tbsp maple syrup
1 sprig of rosemary
Instructions
To make the red lentil waffles:
Soak the red lentils and rice overnight. Use enough water to cover the rice and lentils completely.
Drain the water the next day and rinse. Add the lentils, rice, and 2 cups of water to a high speed blender and blend until smooth. Transfer to a large mixing bowl.
Stir in chickpea (garbanzo bean) flour, baking powder, vanilla extract, and sugar. If the batter is too runny, add more chickpea flour until the consistency is that of pancake batter.
Grease the waffle maker before pouring in the batter. Make sure to grease the waffle maker after each waffle or else the waffles will stick!
To make the rosemary pomegranate syrup:
Whisk pomegranate juice and maple syrup together.
In a medium sized pot, cook the mixture on medium-low heat with a sprig of rosemary until it boils. Reduce heat to low and simmer until the syrup reduces to half of its size. Make sure to keep stirring frequently or else the syrup will burn!
Once the syrup has reduced in size, remove from heat and let cool. If you want to thicken the syrup further, place in the refrigerator for a minimum of 30 minutes.