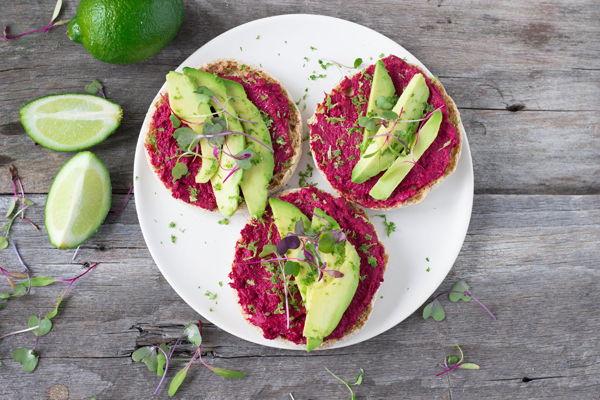 Tanney and I wanted to create a yummy spring appetizer that was light, bright and colorful, so we decided to make Open-Faced Roasted Beet Hummus Sandwiches! We slathered English muffins with a creamy and flavorful roasted beet hummus, and then topped them with fresh avocado and lime zest. Trust me, the combo is delicious.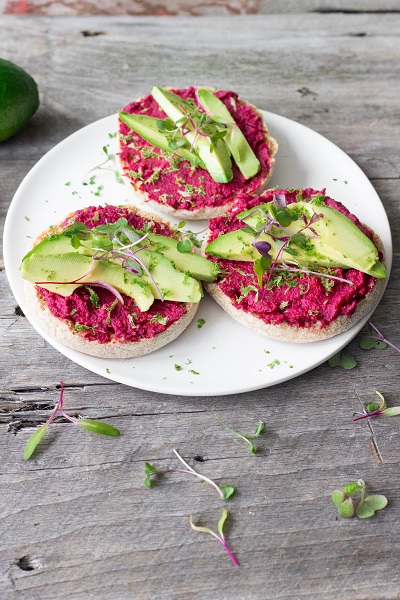 I'm totally in love with the vibrant pink color and luxurious texture of this roasted beet hummus! Doesn't it look amazing? Adding ginger and lime zest transformed this hummus from ordinary to out of this world! Just think of it as hummus getting a spring makeover…
Not only does this hummus possess beauty, but it also has brawn. Did you know that Olympic athletes eat beets to improve their athletic performance? Eating beets helps blood vessels relax, which allows oxygen to flow into muscles more easily. Throw in a dose of protein from the chickpeas, and it's one powerful hummus!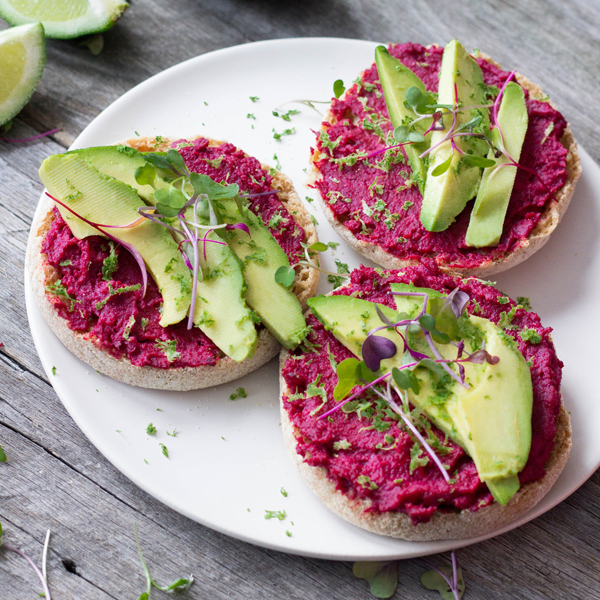 Open-Faced Roasted Beet Hummus Sandwich Notes:
– Feel free to microwave the beets instead of roasting them.
– This would make a fantastic dip for fresh veggies.

Open-Faced Roasted Beet Hummus Sandwich
Ingredients
2 beets
2 garlic cloves
1 inch of ginger
3 tbsp tahini
juice of half a lime
half of one lime zest
¼ cup extra virgin olive oil
1 can chickpeas
½ tsp salt or to taste
¼ tsp paprika
¼ tsp cumin
English muffins
2 avocado
microgreens (optional for garnish)
Instructions
Preheat oven to 375 degrees F.
Wrap beets in aluminum foil, place on baking sheet, and then roast in the oven for about 45-50 minutes.
Let the beets cool and then peel them. If the skin does not come off easily, return to the oven to let it roast a bit longer.
Add the beets, ginger, garlic, lime juice, lime zest, and chickpeas to the food processor and pulse until minced. Scrape down the bowl, then add the tahini, and process until coarsely pureed. Add the olive oil and process until smooth.
Stir in the spices and salt.
Toast the English muffins and top them with roasted beet hummus, avocado, and microgreens.