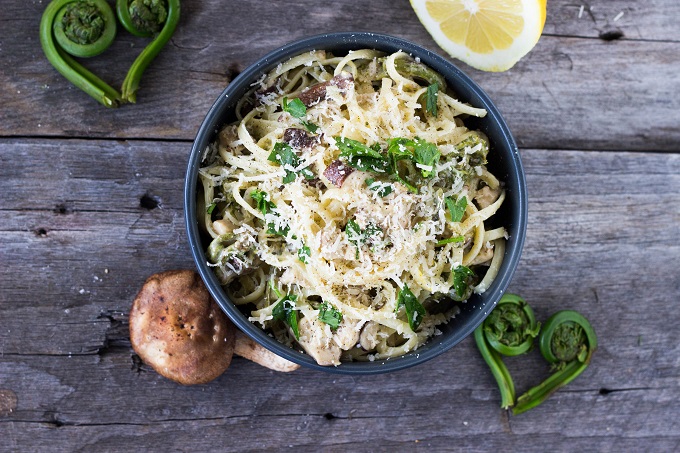 Pasta has always been one of my favorite comfort foods. I made this creamy, lemony fiddlehead and mushroom linguine and immediately fell in love with it. Fiddleheads are in abundance this time of the year in Massachusetts. I had never cooked a fiddlehead before, but was intrigued by the fact that it was an edible fern! I was enamored by its unique spiral shape and vibrant green color, so I grabbed a handful from the grocery store and decided to experiment with it in my kitchen. I was thrilled with the results, and this turned out to be my new go-to pasta recipe. The best part was that I felt like I was dining out at a fancy Italian restaurant, when in reality, I was eating this fiddlehead and mushroom linguine out of a cereal bowl in my pajamas.
Lemony Fiddlehead and Mushroom Linguine notes:
-Fiddleheads must be washed and cooked thoroughly before consumption! The best way to wash fiddleheads is to fill a large bowl with water and then rinse them, repeating the process multiple times. After the water turns clear, boil the fiddleheads in a fresh pot of water for approximately 15 minutes. Then you can begin sauteing them to create this dish. Do not eat fiddleheads raw or sauteed without boiling them first!

Lemony Fiddlehead and Mushroom Linguine
Ingredients
2 cups fiddleheads
2.5 cups shitake mushrooms
2 cloves garlic
2 tbsp butter
8 oz linguine
¼ cup grated parmesan cheese
1 cup heavy cream
zest of ½ lemon
1 tbsp lemon juice
¼ tsp salt
Instructions
Clean fiddleheads thoroughly by washing them in water several times, then boil them for 15 minutes (see notes above)
Fill a large pot with water, add a pinch of salt and cook the linguine al dente.
In a separate pan, saute the mushrooms, fiddleheads, and garlic together in butter. Once you are done sauteing (the mushrooms will release their water, which will evaporate), add the cream, parmesan cheese, salt and lemon juice and zest.
Remove the pan from heat once the sauce starts to thicken, and then toss it with the pasta.