I'm a truffle-aholic. And my love for raw cacao transcends the dimensions of space and time. I find myself suddenly becoming poetic when I see the jar of raw cacao sitting on my countertop each morning. Oh raw cacao, how do I love thee? Let me count the ways…
Tanney: *rolls her eyes*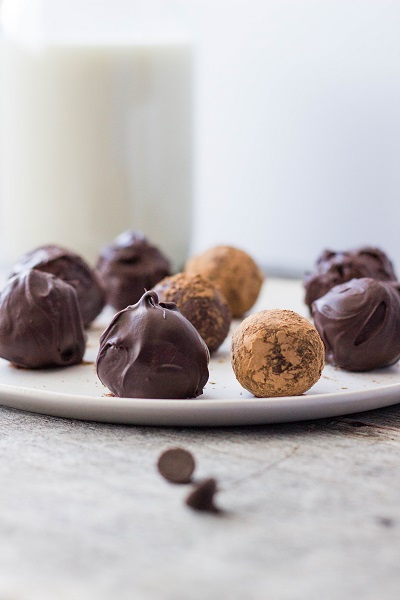 Anyway, I digress. Back to these chocolate truffles. They are fancy- shmancy, yet simple to make.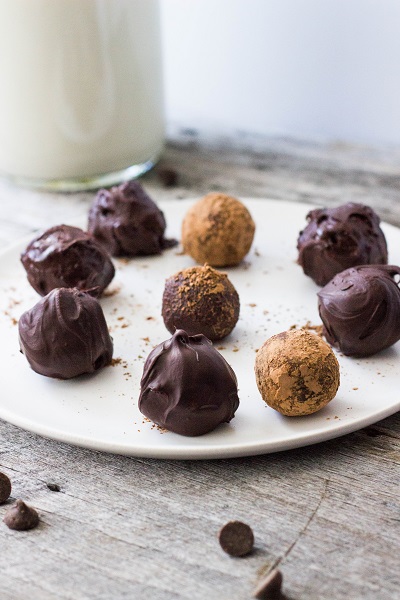 These chocolate truffles make decadent gifts…but we ate them up so fast that there weren't any left to give away!
What are your favorite truffle flavors? You know that I'm going to try them out!
Homemade Chocolate Truffles Notes:
-Learn all about cacao in our Superfoods:101 post!

Homemade Chocolate Truffles
Ingredients
3 cups bittersweet chocolate chips (I used 65% cacao chips)
1 cup heavy cream
½ cup raw cacao, for garnish (optional)
pat of butter
Instructions
Combine 2 cups of chocolate chips and the cream together in a bowl. Heat in the microwave, removing every 30 seconds to stir, until the chocolate has melted (approx. 1 minute).
Pour the chocolate into a small loaf pan or other deep dish that is lined with parchment paper. Avoid spreading the chocolate too thin. Cover the dish and refrigerate for about an hour, until the mixture thickens.
Scoop ½ tsp of the chocolate mixture and roll it in your hands in your palms to form a ball. Place the ball on a plate and keep repeating this process to make the truffle centers. The chocolate will soften quickly at room temperature and in your hands, so it is best to work quickly and have two people for this step- one person can mold the chocolate into balls, while the other person can stash the plate in the freezer after each ball is formed to keep it cold. If the chocolate mixture becomes too soft to mold into balls, place in the refrigerator again for a few minutes to harden it. Once all of the balls have been made, refrigerate them for 30 minutes to firm up the chocolate.
For the coating, melt the remaining 1 cup of chocolate chips with a pat of butter in the microwave, stirring every 30 seconds.
Dunk the centers in the chocolate and place on a dish lined with parchment paper. Once all of the centers have been coated, place the truffles in the refrigerator once more to set them. Alternatively, simply coat the centers in raw cacao powder for a decadent finish!