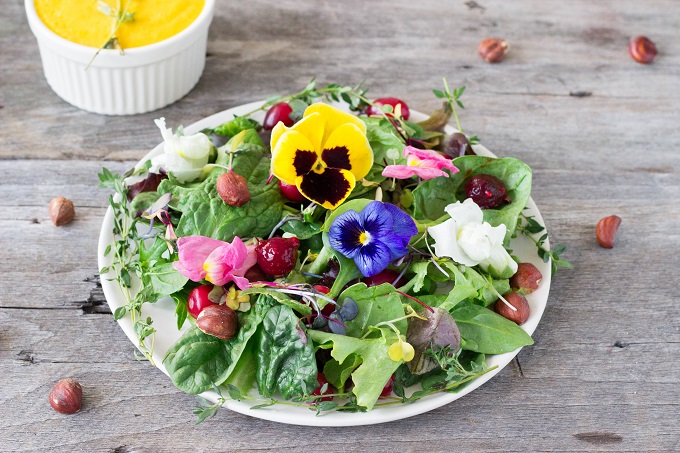 I spotted some beautiful flowers while hiking the other day and was inspired to make this "forest" salad to celebrate Mother Nature!
I am constantly wowed by the perfect symmetry of a sprig of rosemary, the vibrant color of a blueberry, the juiciness of ripe watermelon, and the hearty crunch of almonds. And what we see in the grocery store is just the tip of the iceberg… it's breathtaking to think about all of the incredible forms of life and nourishment that we have yet to discover.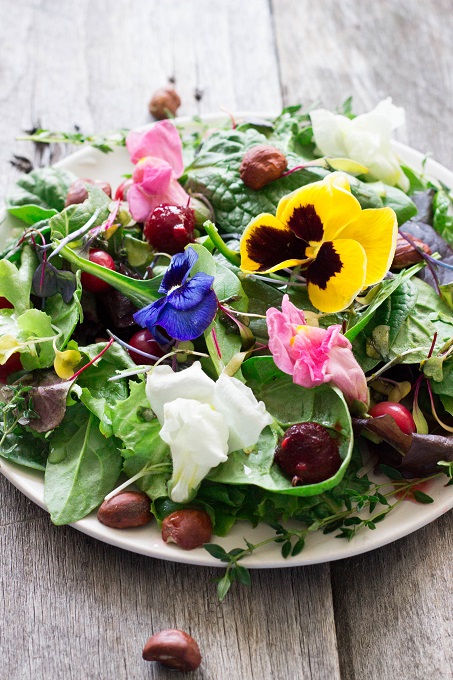 This salad is a vibrant snapshot of some of Mother Nature's beautiful gifts. Fresh greens, hazelnuts, thyme, and berries are married with a small bouquet of edible flowers. It's a match made in heaven, especially when topped off with a refreshing carrot raspberry ginger dressing. Hands down, it's the best dressing that I've ever tasted!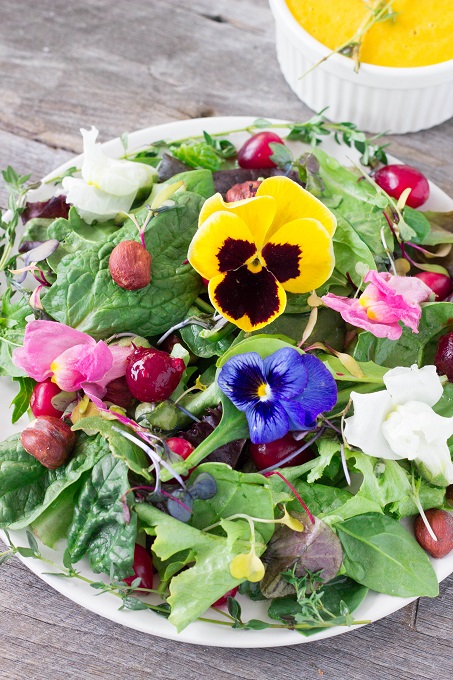 Forest Salad with Carrot Raspberry Ginger Dressing notes:
– I added turmeric to the salad dressing for an extra boost of antioxidants but this dressing will taste amazing even without it.

Forest Salad with Carrot Raspberry Ginger Dressing
Ingredients
Salad
½ cup microgreens
½ cup edible flowers
1.5 cups spinach
6 raspberries
4 cranberries
½ cup hazelnuts
Carrot Raspberry Ginger Dressing:
1 tsp onion
1 heaping tablespoon ginger
¾ cup water
1 tsp olive oil
6 tbsp frozen raspberries
1 whole carrot, steamed
1 tbsp frozen dark sweet cherries
⅛ tsp salt
¼ avocado
Dash of turmeric (optional)
Instructions
To make the salad:
Combine all of the salad ingredients in a large bowl.
To make the salad dressing:
Place all of the ingredients in a high speed blender and blend until smooth.
Drizzle the dressing over salad and enjoy!