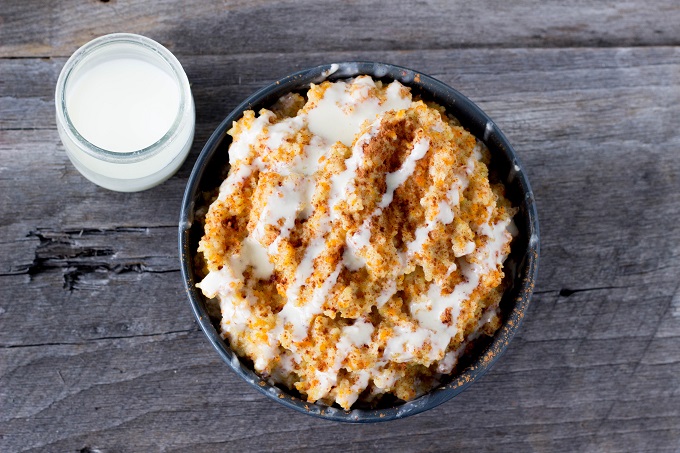 I've always loved the soft, fluffy texture of couscous and imagined that it would make the perfect breakfast porridge. I tested out my theory this weekend and am happy to report that the result was delicious!
If you're like me, breakfast consists of cold cereal and milk most days of the week. This breakfast is different. It's meant to be eaten on lazy weekend mornings, when you don't have to rush out of the door. It's best enjoyed while sitting at the breakfast table, sipping your favorite cup of tea and reading the newspaper.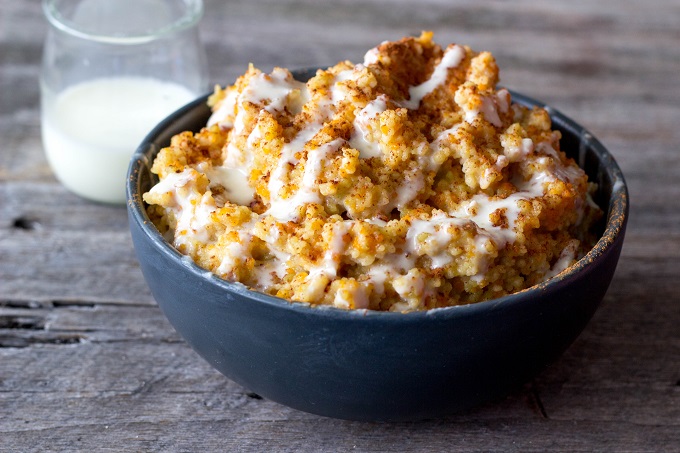 I couldn't resist drizzling glaze all over the top of this couscous porridge. You don't mind, right? Although carrot cake is traditionally topped with cream cheese frosting, I decided to go with American-style Neufchâtel cheese instead. It's soft like cream cheese, but has a lower fat content and a higher moisture content. Trust me, this Neufchâtel glaze trumps cream cheese frosting any day.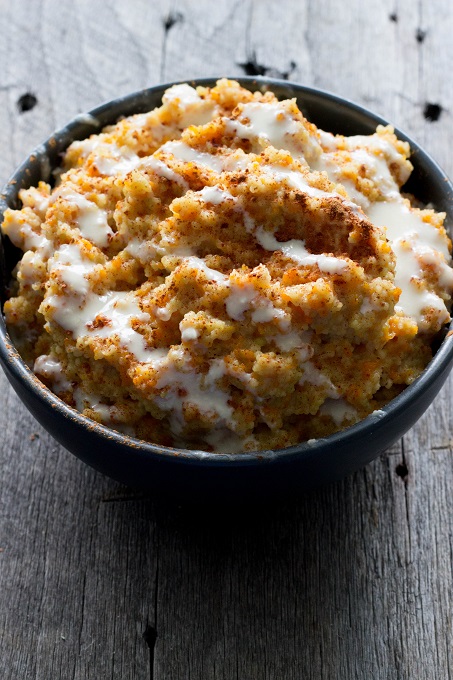 It's carrot cake meets breakfast porridge in an exotic, faraway land.
Hope you enjoy this porridge!
Carrot Cake Couscous Breakfast Porridge notes:
– Make sure to use American-style Neufchâtel cheese instead of the European-style version. The American version has a texture and flavor that is similar to classic cream cheese, while the European version is grainier and sharper. If you cannot find American Neufchâtel, feel free to substitute with regular cream cheese.

Carrot Cake Couscous Breakfast Porridge
Ingredients
Porridge:
1 cup couscous
4 cups milk
½ tbsp butter (grass-fed if possible)
½ tsp cinnamon
½ tsp nutmeg
½ tsp allspice
½ cup organic cane sugar (add more to taste)
¼ cup raisins
¼ tsp vanilla extract (add more to taste)
¼ cup shredded carrots
Glaze:
2 oz Neufchâtel cheese (American style)
½ tbsp butter
2 tbsp milk
2.5 tbsp powdered sugar
Instructions
To make the porridge:
Whisk all of the porridge ingredients together except for the raisins.
Cook on medium low heat until the couscous is soft and creamy, stirring frequently.
Remove from heat and add raisins.
To make the glaze:
Place all of the ingredients into a mixer and beat until smooth and creamy.
Drizzle the glaze over the porridge.