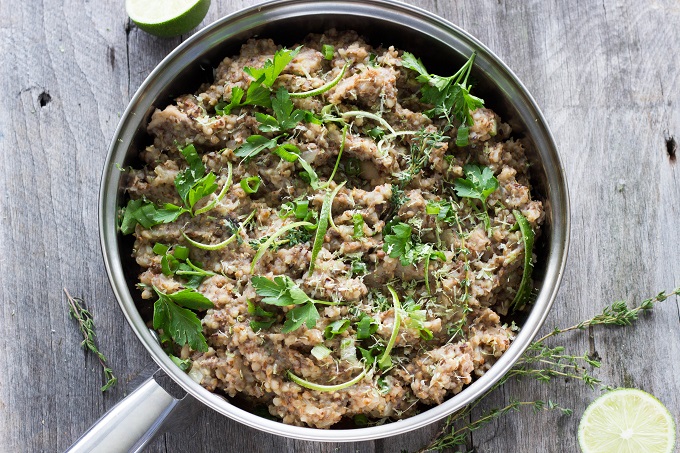 Risotto is one of my favorite comfort foods. Although it's traditionally made with arborio rice, I decided to make this creamy risotto with hearty buckwheat instead.
Although it has the word "wheat" in it's name, buckwheat is actually a fruit seed and not related to wheat at all, making it gluten free! Also, did you guys know that honeybees feast on fragrant buckwheat flowers to produce dark and luxuriously thick buckwheat honey?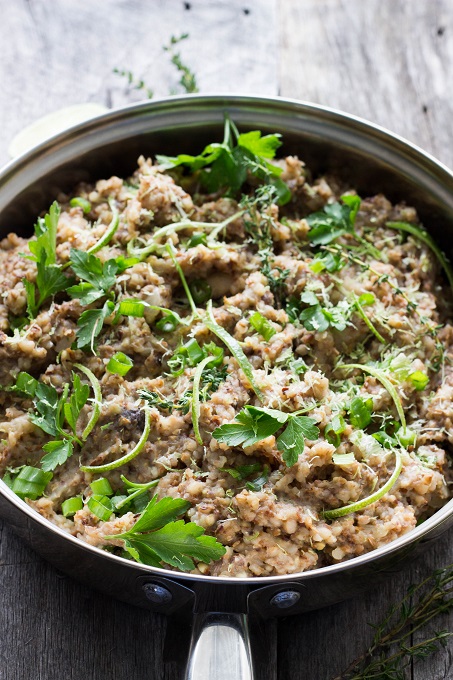 Not only will this dreamy risotto keep your stomach full, but it will also help keep your body energized and healthy! Buckwheat is rich in minerals such as manganese, copper, and magnesium as well as phytonutrients. Studies have shown that eating buckwheat can lower cholesterol, lower the risk of diabetes, and lower blood pressure. The fiber in buckwheat may protect against breast cancer as well!
Buckwheat has an earthy, nutty flavor that works perfectly as a base for risotto. Add a squeeze of fresh lime juice and a handful of mushrooms, and you have a easy, filling and flavorful one-pan meal.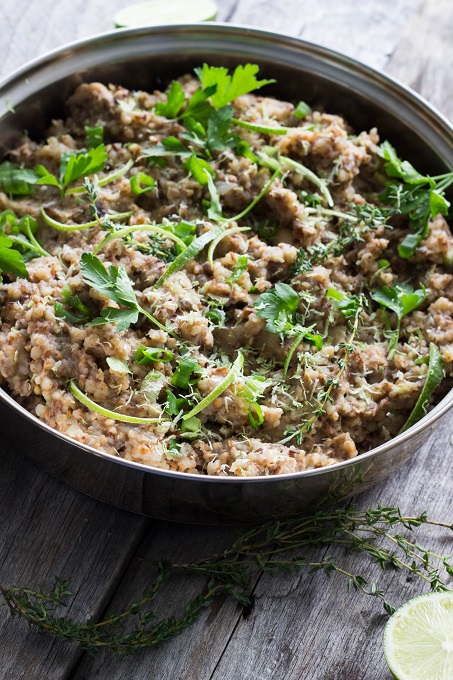 Buckwheat Mushroom Risotto notes:
-Feel free to add other herbs to this risotto. We used thyme but rosemary and sage also go well with buckwheat.

Buckwheat Mushroom Risotto
Ingredients
1 tbsp extra virgin coconut oil
1.5 cups roasted buckwheat groats
½ onion
6 cups mushrooms
2 cloves garlic
5 cups vegetable broth
1 tbsp + juice from half of a lime
¼ tsp salt (or to taste)
1 tbsp nutritional yeast
2 sprigs thyme
truffle oil (optional)
lime zest, parsley, green onion (garnish)
Instructions
Dice the onions, mushrooms, and garlic and sauté over medium-low heat with 1 tbsp coconut oil.
When the onions become translucent and most of the water released from the mushrooms has been evaporated, add the buckwheat groats and toast until a fragrant, nutty aroma is released.
Add 1 cup broth, 1 tbsp of lime juice, salt, and thyme and simmer on low heat, stirring constantly, until most of the liquid has been absorbed. Add another cup of broth, stirring constantly, and wait for the liquid to be absorbed before adding more broth. Repeat process until all 5 cups of broth have been absorbed into the risotto.
Remove from heat and stir in the nutritional yeast and lime zest.
Garnish the buckwheat risotto with more lime zest, parsley and diced green onion. Drizzle with leftover lime juice and truffle oil for an added flavor boost.