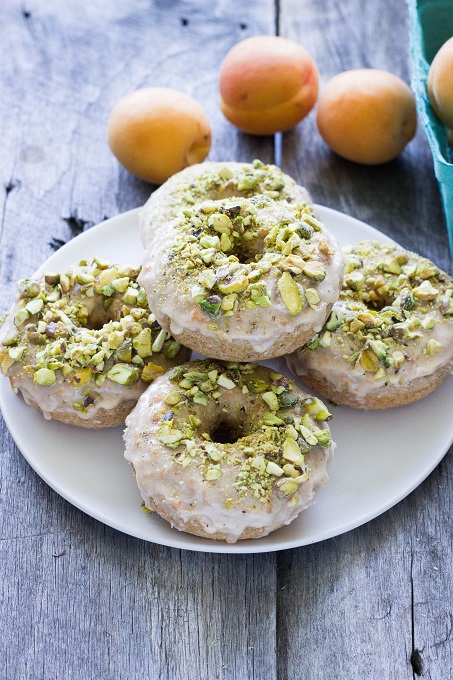 A good day begins with a good breakfast, and a great day begins with vanilla bean donuts!
Growing up, I looked forward to Sunday mornings because there was always a box of freshly baked donuts on our kitchen table. As soon as I opened the lid, the tantalizing aroma of donuts filled the kitchen. As I gazed into the treasure chest, my head spinned with the possibilities. Sprinkles or no sprinkles? Original or cake? Custard filling or jelly filling? Decisions… decisions…
When I saw a carton of freshly picked apricots at the farmer's market the other day, I knew that I had to buy some. I decided to create baked vanilla bean donuts topped with a luscious apricot pistachio glaze. Although most of the the donuts quickly disappeared after coming out of the oven, I managed to stash away a few to enjoy later. When I opened the refrigerator the next day, I was astonished to find out that the donuts tasted even better! The flavors slowly infused the donuts and made them taste just like delicately spiced coffee cakes.
Baked Vanilla Donuts with Apricot Pistachio Glaze notes:
– I highly recommend making these donuts in advance and refrigerating them overnight so that the flavors will infuse. Just pop them in the microwave for 15 seconds before you enjoy them with your favorite cup of coffee or tea!

Baked Vanilla Bean Spelt Donuts with Apricot Pistachio Glaze
Ingredients
Donuts:
2 cups spelt flour
½ tsp nutmeg
½ tsp baking soda
2 tsp baking powder
2 eggs
⅔ cup organic cane sugar
½ cup milk (organic and grassfed if possible)
½ cup full fat greek yogurt
4 tbsp melted unsalted butter
1 whole vanilla pod
baking spray to grease donut pan
Glaze:
4 tbsp chopped apricots (about 1 full apricot and ¼ of another)
1 tsp milk
2 tbsp cream
2 cups powdered sugar
1-2 cups of chopped raw, unsalted pistachios
Instructions
To make the donuts:
Preheat oven to 350 degrees F.
Stir the flour, nutmeg, baking soda, and baking powder together.
In a separate bowl, whisk the sugar, milk, yogurt and eggs together.
Scrape the vanilla beans from the vanilla pod and stir them into the bowl containing the eggs. Add melted butter and whisk until smooth.
Add the wet ingredients to the dry ingredients and gently stir until combined. Make sure not to overmix or else the donuts will be dense.
Spray the donut pan with baking spray and then spoon the batter into the donut wells.
Bake for approximately 10 minutes. When you insert a toothpick into the center, it should come out clean. Let the donuts cool while you make the glaze.
To make the glaze:
Mince the apricots using a food processor.
In a large bowl, whisk powdered sugar, milk, cream, and apricots together until smooth.
Dip the tops of the donuts into the glaze and sprinkle with chopped pistachios. Place on a cookie sheet or large plate to dry.