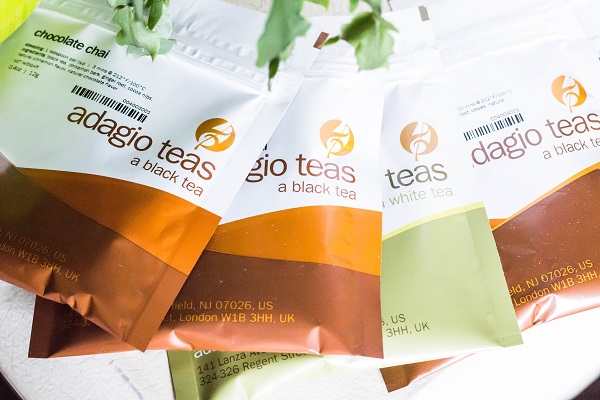 I drink a ton of tea. It's my favorite beverage, after pure water, and I love how there's so many different types and flavors to satisfy my sweet tooth in a healthy way.
I tend to drink mostly green tea, though I do love a cup of iced peppermint tea on a hot day, or chai on an especially cold winter day. When Adagio Teas offered to send me some teas to review here on ETG, I jumped at the chance. Yay for tea!! I decided to try the silver needle tea (a type of white tea), candy cane tea (I know it's not December but I LOVE anything candy cane/peppermint), peppermint tea (of course, how can I resist?), Christmas blend tea, chocolate chai (doesn't it sound delicious?!), and regular masala chai.


Here are my verdicts:
Silver needle: Grassy, bright, delicious. This is a light tea compared to the others. I loved the flavor, it tasted so pure and clean. I think my father will really like this tea (he loves the delicate teas) so I need to send some to him!
Peppermint tea: So refreshing. Like… I felt like I took a nap and woke up refreshed or something- that's how invigorating this tea is. Since I drink a lot of peppermint (and so does my sister), I think I will be ordering this tea in bulk, haha.
Candy cane tea: SO. GOOD. It tasted just like a candy cane, with a bit of a fruity aftertaste. Almost like if you were eating a peach-infused candy cane? This has officially become my new favorite tea. I didn't add any sugar to the first batch I made and it turned out fine (it's the right amount of delicate sweetness) but the second batch I made, I added a hint of raw sugar & I felt like I was drinking a liquid candy cane. So delicious. Will buy again. And again. And again…
Christmas tea: I LOVE THIS. Sorry for writing in all caps, but it is fabulous. It tastes kind of like chai, but with orange peel, which adds an amazing brightness and fruitiness to the tea. It seriously does taste like the holidays.
Chocolate chai: This tea was pretty good. It reminded me of a spiced hot chocolate, yummy. It's just the thing for a cool winter's night. Last week we had a snow storm here in Boston, and so I drank cups of this stuff to stay warm and cozy.
Masala chai: Classic and delicious. Adagio's chai is spicy but not too overwhelming. It reminds me of home (my mom always has some chai brewing on the stove). When I told her about this chai, she became super excited at the thought of not having to make her own blend (she doesn't like the chai that grocery stores sell because it tends to taste stale) and when I gave her the seal of approval, she made me promise that I'll save her some for when she visits. If you like spicy chai, Adagio's chai is the best kind to get. It's fresh and tastes like authentic Indian chai.

I really love Adagio Teas and how many awesome types/flavors of tea they have. I will definitely be ordering from them again- I really want to try the fandom teas they have (you can find them by clicking on the "Blends" icon at the top right of their website. They have really amazing ones!
The one I will be ordering next is a Forest Lovers one described on the site as:
"The light sweetness of forest berries and warm undercurrents of honeybush vanilla make this a wonderful soothing cuppa. It's perfect with a bit of strawberry sugar or a touch of honey. It's also wonderful sweetened and chilled over ice. But be aware! Much like young love, this is a drink best tasted fresh after brewing. Left sit too long, the flavors shift slightly, producing a slightly tart aftertaste. This tea is fabulous iced!"
Doesn't that tea blend sound amazing?! They also have some Harry Potter inspired ones:

And Star Wars:

I am freaking out from the awesome of this tea company. So many cool products and such great quality. You can tell that they really love tea! I highly recommend this company and their delicious & creative teas!
Disclaimer: Adagio Tea provided us with samples of these teas to review but all opinions on ETG are our own.