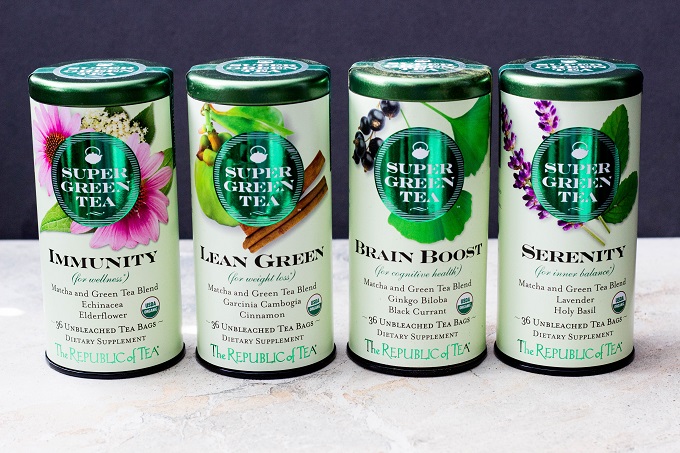 There's nothing like a cup of tea to unwind after a long day. We were thrilled to receive this gift box of SuperGreen tea from Republic of Tea, which contains 4 canisters of green tea.


I love all things matcha, so I'm excited that The Republic of Tea has launched a new line of matcha. Matcha is made from ground green tea leaves, and is packed with antioxidants. It's popular in Japan, where it's used in tea ceremonies and to flavor desserts.

I was excited to try Lean Green, which has garcinia cambogia and cinnamon. I've had teas in the past where the cinnamon is overpowering, but the spice in this tea blend is subtle. Garcinia cambogia first became popular after Dr. Oz featured this supplement on his show. Caffeinated drinks like soda and energy drinks can cause weight gain, so this is a good option to consider if you're looking for a pick-me-up without the extra calories. I also think that soaking some chia seeds in some steeped Lean Green tea and topped with banana would make an excellent healthy breakfast.

Serenity contains lavender and holy basil, and the floral notes in this tea are so aromatic and relaxing. Although lavender is associated with promoting sleep, I would recommend avoid drinking this tea late at night, as the caffeine in the green tea can affect your sleep.

The echinacea in Immunity can help battle colds. A spoonful of honey stirred into this citrusy tea, a good book, and some relaxation is perfect for days when I'm feeling under the weather. Also, this tea smells AMAZING, you guys!!

Brain Boost is my favorite. Not only does it have the cognitive boosting benefits of green tea (l-theanine), it also has ginkgo which is currently being studied as a possible memory enhancer. I love the taste of this tea, which I think comes from the black currants in it. It is fruity (but not too overpowering though!) and is so refreshing.
I also admire that fact that the Republic of Tea uses unbleached tea bags, in contrast to other brands that sell teas in bleached teabags or plastic sachets. Although the plastic sachets look pretty, it's probably not a good idea to have hot water come in contact with plastic while steeping the tea. These unbleached tea bags are perfect!
Hope you have a relaxing day and enjoy a cup of tea!
Disclaimer: Republic of Tea provided us with samples of these teas to review but all opinions on ETG are our own.