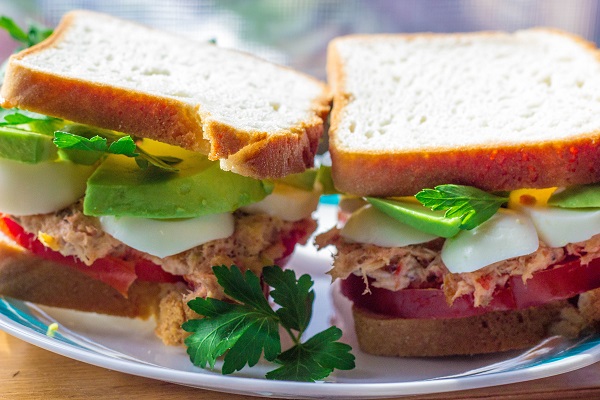 I love sandwiches. They're simple to make and extremely filling, not to mention portable. Growing up, I used to eat a ton of peanut butter and jelly sandwiches, but nowadays, I tend to eat tuna or egg salad sandwiches for lunch instead.
Today's recipe is the best of both worlds. It's packed with an immense amount of protein to fill you up for the long day ahead, from the tuna, egg, and smoked salmon in it. Yes, you heard me right… three types of protein plus creamy avocado, tomato, and chopped parsley to keep things bright and delicious.
This protein-packed avocado, tuna, egg, and salmon salad sandwich is ridiculously good and ridiculously easy to make. Enjoy!

Protein-Packed Avocado, Tuna, Egg, and Salmon Salad Sandwich
Ingredients
1 can white, no salt added tuna
4 oz hot smoked salmon
2 tbsp mayonnaise
2 hardboiled eggs, sliced thin
2 medium-sized tomatoes, sliced thin
1 rib of celery, diced
3 tbsp diced red onion
1 tbsp lemon zest
1 large avocado, sliced thin
8 sprigs parsley (optional to garnish)
4 slices bread (we used Udi's white gluten free bread in this recipe)
Instructions
Drain the liquid from the can of tuna. Place tuna, salmon, mayonnaise, celery, onion, and lemon zest into a large bowl, and stir thoroughly with a fork, making sure to break apart large chunks of fish as you mix.
Layer the tomato onto two pieces of bread, then spread the tuna and salmon salad on top of that. Add a layer of thinly sliced hardboiled eggs, then a layer of avocado, then sprinkle with parsley. Top with remaining bread slices.