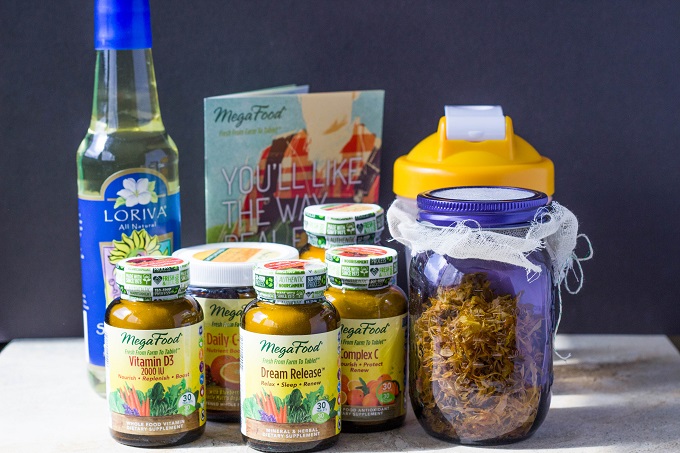 Because Eat Thrive Glow loves all things plant-based and natural, MegaFood sent us a box of goodies filled to the brim with vitamins, dried calendula flowers and pure sunflower oil.
In the past, I've been on the fence about taking vitamin supplements, since eating a well-balanced diet is the best way to make sure that my body gets the nutrients it needs. I know that nothing is a perfect substitute for real fruits and vegetables. Having said that, MegaFood vitamins might be the next best thing, since they use farm fresh fruits and veggies in their supplements! The produce gets picked, ground, dried, and packed into multivitamins. So much more appealing than other brands that may use synthetic ingredients or fillers in their vitamins.
What's also impressive about MegaFood is that their vitamins are packaged in dark amber glass bottles and jars! We've all heard of the benefits of glass over plastic, but very few vitamin makers actually sell their products in glass bottles.

Vitamin D deficiency has been linked to all sorts of issues like bone and muscle pain, increased risk of cardiovascular disease, cancer, etc. I was really excited to try the Vitamin D3, since I live in Boston and it's hard for me to get much exposure to sunshine due to the long winters. I really like this supplement.
The MegaFood Complex C contains organic amla, rosehips, green peppers, and oranges, along with blueberries and cranberries, which is amazing. Vitamin C is great for boosting the immune system and making skin glow, so I will definitely be taking this regularly. I also drink smoothies everyday and love adding a pinch of the Daily C-Protect Nutrient Boost Powder to further boost its nutritional value. The only thing I don't like about this product is that it doesn't dissolve very well, so I would recommend blending it with other ingredients like avocado to make it easier to drink.

The Loriva Sunflower oil works great in my stir-frys and baked goods, and I love how it is cholesterol free, cold pressed, and is in a glass bottle. It is also Kosher and gluten-free.

I haven't had a chance to try Dr Low Dog's dried calendula flowers yet, but I'm looking forward to infusing the sunflower oil with the flowers as a nourishing skin balm during the winter.
Overall, I'm impressed by the quality of MegaFood products and would recommend them to those who are interested in taking vitamin supplements.
Please talk to your doctor before embarking on any new supplement regimens!
Disclaimer: MegaFood provided us with samples of these supplements to review as part of their Spring Forward blogger program but all opinions on ETG are our own.