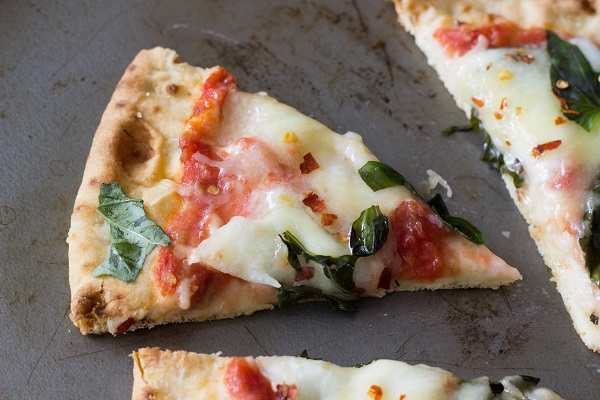 Nothing hits the spot like a big slice of pizza. The problem is that there are so many yummy toppings to choose from, that it's hard to make up my mind! And I haven't even gotten to the crust options yet- thin crust, thick crust, cheese inside the crust, or Chicago deep dish? Decisions, decisions.
Sometimes all I want is something basic, with the classic ingredients of fresh cheese, basil, and tomatoes. I'm looking at you, margherita pizza!
After I get home from work, I am usually too tired to make pizza dough from scratch. So, I use the next best thing: naan. Naan is an Indian flatbread, and nowadays you can find it at most grocery stores. A slice of naan makes a great base for pizza toppings and is the perfect size for a personal pan pizza.
Enjoy your Margherita Naan Pizza!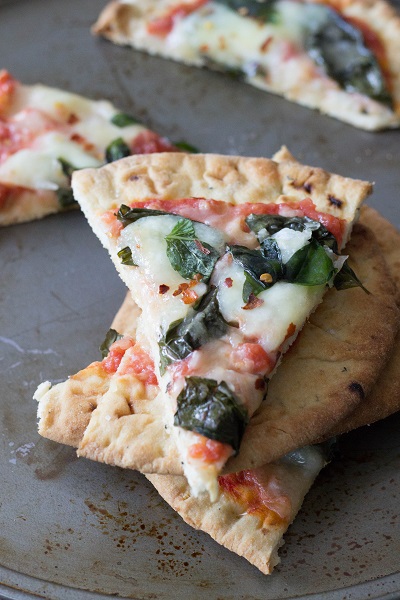 Margherita Naan Pizza notes:
-If you're in a hurry, use ready-made spaghetti sauce to make this naan pizza instead!

Margherita Naan Pizza
Ingredients
4 pieces of garlic Naan (if unavailable, can use plain Naan)
1 can (14 oz) whole peeled tomatoes (we used San Marzano brand)
fresh mozzarella, sliced into thin rounds (can also use shredded mozzarella)
sea salt, to taste
20 chopped fresh basil leaves
1 garlic clove, peeled and diced
Instructions
Preheat oven to 350 degrees F.
Combine the tomatoes and sea salt in a food processor to make tomato sauce.
Spoon a thin layer of tomato sauce onto the pieces of naan (if you add too much sauce, the bread will become soggy).
Top the naan with slices of mozzarella, slivers of garlic, and basil leaves.
Place on a cookie sheet lined with parchment paper and bake until the naan crust turns golden brown (approx 10 minutes). Feel free to garnish with a few more basil leaves, Parmesan cheese, or crushed red pepper before eating!