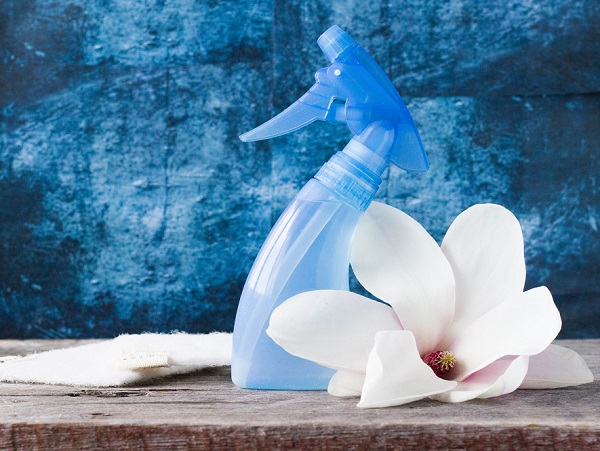 It's time for some spring cleaning! The first place that I needed to tackle was the bathroom, so I looked inside the storage area underneath my sink last weekend for some heavy-duty shower cleaner. As soon as I opened the cupboard, scents of pine and bleach from a dozen different cleaning products greeted me. Perfect! Just what I needed to get the cleaning job done, right? Not so fast.
Did you know that under US law, the manufacturers of cleaning products are allowed to use almost any ingredient in the products? These ingredients include those that can harm fetal and infant development, lead to asthma, disrupt hormones, and cause cancer. Some of these ingredients are also neurotoxins that can affect brain function in children, leading to ADHD, autism, and lower IQ according to research published in the prestigious journal The Lancet. To make matters worse, the manufacturers of cleaners are not required to label all of the toxic ingredients used in their products. Even products that claim to be "green" may contain harmful contaminants.
Some argue that these ingredients are only harmful in large doses in the lab, and may be safe at the lower doses that people are exposed to in real life. Although this may hold some truth, let's take a look at the history of lead poisoning. The CDC initially felt that 60 mcg/dL of blood was acceptable in1970 and has since lowered the dose to 5 mcg/DL in 2012 as more research showed that even low levels of lead affected developing brains. It would take many years and millions of dollars to test all of the available chemicals today, and unfortunately, time and money are scarce commodities nowadays.
You can look for either Green Seal or EcoLogo certification of the product, as these certified green products have fewer harmful chemicals when tested. You can also vote with your dollars by refusing to purchase commercial cleaners until there is more transparency from the manufacturers of these products.

The research was convincing enough for me to start making my own homemade shower cleaner! It's a simple recipe made with just two ingredients: vinegar and water. Why risk your health when you can make your own cleaner for a cheaper price?
Please share this post with others who may be unaware of the dangers of commercial cleaning products.
Homemade Shower Cleaner notes:
– If you are going to make a big batch of this for long term use, I would recommend storing it in a glass container

Homemade Shower Cleaner
Ingredients
2 cups water
½ cup white vinegar
Instructions
Combine the two ingredients together and microwave for 30 seconds.
Let cool and then pour into a spray bottle.
Spray on surfaces of shower and let it sit for approximately 5 minutes.
Wipe clean with cotton towel.