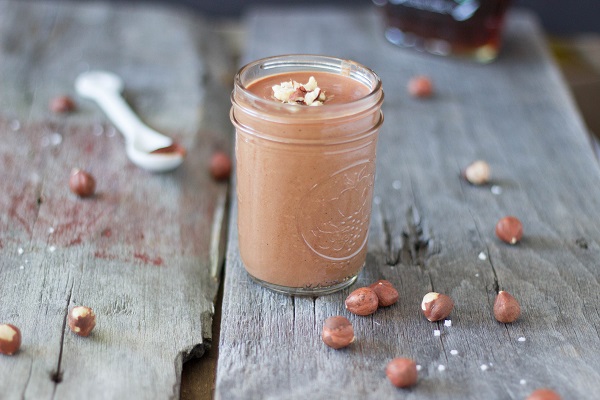 Would it be okay with you guys if I just slathered Nutella on every recipe from here onwards? I'm being totally serious here.
You see… I had a strawberry and nutella crepe a few years ago, and it was love at first sight. Or should I say, first bite?
The dreamy, decadent combination of hazelnuts and chocolate is pure magic.
Channeling my inner Martha Stewart, I wanted to see if I could whip up some homemade nutella. Y'all know how giddy my sister gets over raw cacao, so I knew she wouldn't object to this recipe if I used it as the chocolate base. Roasted hazelnuts take this luscious chocolatey spread to the next level. Lastly, I used maple syrup to sweeten this homemade nutella instead of white sugar.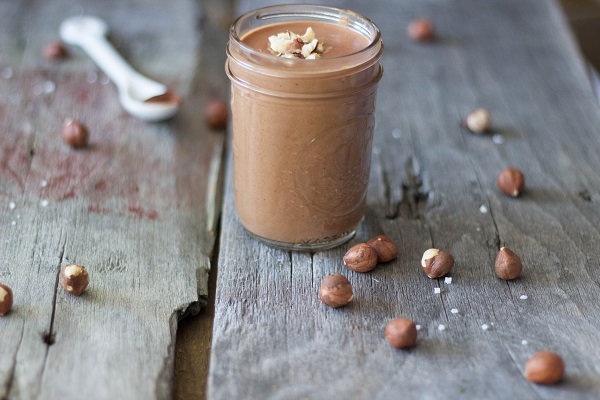 Now that I know how to make homemade Nutella, I have a feeling there will be a lot more recipes coming up that will feature this yummy chocolate hazelnut concoction.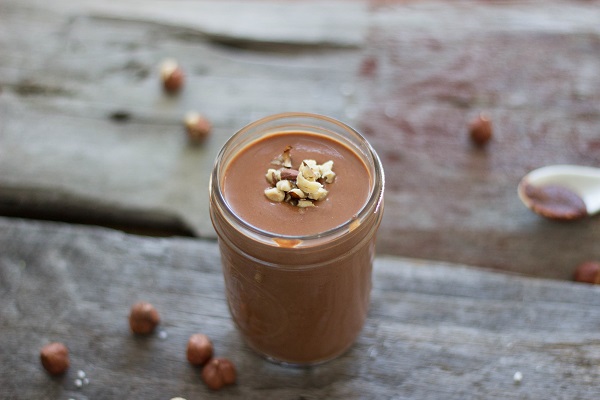 What do you like to pair with Nutella? Or do you just eat it straight out of the jar like I do? 🙂
Josie: "Are you serious?! Are you serious?!" *shocked that I used raw cacao in a recipe voluntarily*
Homemade Nutella notes:
-Feel free to experiment with different sweeteners, such as coconut sugar, dates or raw honey.
-Place some of your homemade nutella in a mason jar and tie a ribbon around the lid. Voila! It's a great gift. I told you I was channeling my inner Martha Stewart!
-Let the hazelnuts sit for a day after you roast them for an extra smooth texture.
-Try out your homemade nutella in our Chocolate Chip Nutella Waffles and Peanut Butter Chia Pudding!

Homemade Nutella
Ingredients
3 cups raw hazelnuts
2 tbsp raw cacao powder
½ cup coconut milk
⅓ cup 100% pure maple syrup
¼ tsp sea salt
Instructions
Preheat oven to 350 degrees F.
Spread the hazelnuts onto a baking sheet lined with parchment paper and roast them for 20 minutes or so, until the skins start to fall off. Let the hazelnuts cool, and then rub the skins off the hazelnuts by grabbing a handful and rubbing them against each other. If the skins do not fall off easily, they need to be roasted more.
Place the hazelnuts and the remaining ingredients into a food processor. Process the ingredients together on the low setting, turn the processor off, scrape down the sides with a rubber spatula, and then process the mixture again on the high setting to thicken the consistency. The mixture will continue to thicken more on its own after it is left to rest.