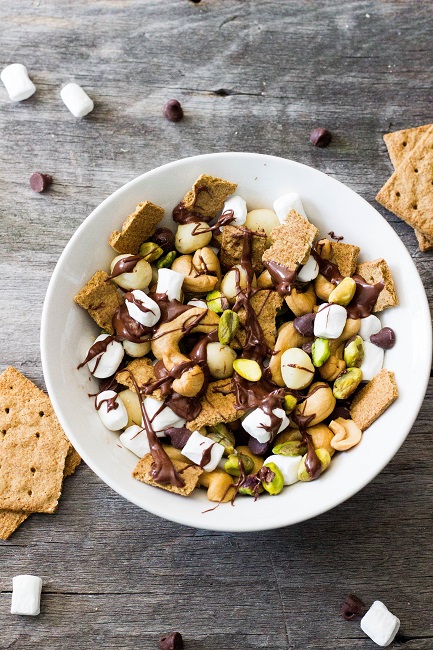 With the summer heat at its peak, I'm ready for the cool and crisp fall weather to arrive. With crimson and gold autumn leaves abound, I can't help but spend more time outdoors. And with all that walking and hiking, a girl needs some food to replenish her energy reserves! That's where this dark chocolate peanut butter drizzled s'mores trail mix comes in.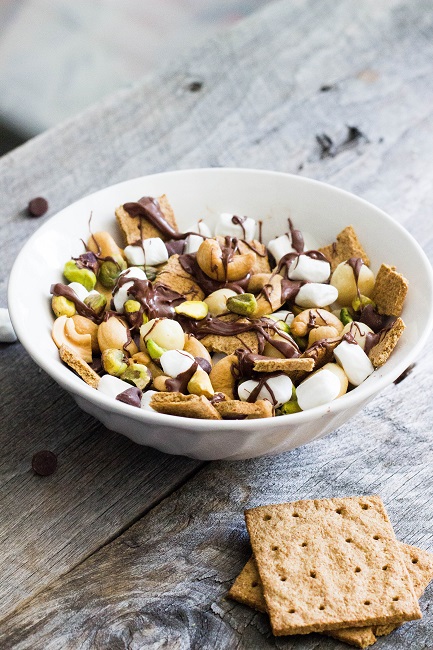 My ideal trail mix is a little nutty and a little sweet, so I tossed together a handful of pistachio, macadamia, roasted cashews and some dark chocolate and peanut butter chips. I could have stopped there, but when I think of the great outdoors, I think of s'mores. Why not add mini-marshmallows, bite sized pieces of graham crackers, and drizzle the whole thing with more dark chocolate?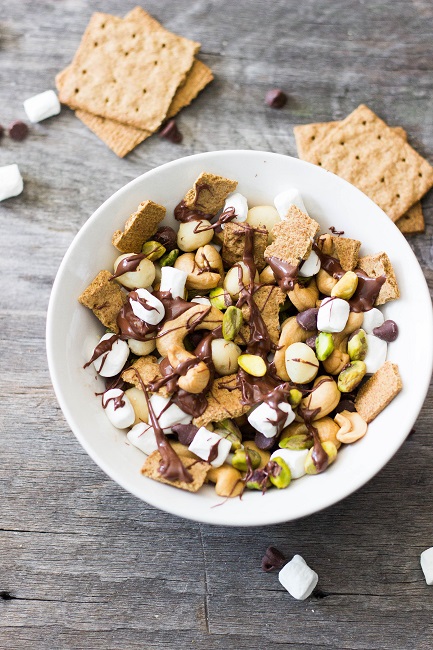 And the results are totally worth it! Seriously you guys, it tastes AMAZING.
Treat yourself to this delicious snack, and if you're in the mood for something a bit more decadent, check out our S'mores Milkshake recipe!
Dark Chocolate Peanut Butter Drizzled S'mores Trail Mix Notes:
-Feel free to add or substitute your favorite nuts into this recipe.
-You can buy nuts in bulk from Nuts.com if you want to make big batches of this trail mix. It stores well!
-Popcorn, chex mix, and dried fruit such as dried cherries add amazing flavor and texture to this s'mores trail mix recipe. I often add dried cranberries to mine for a splash of color and an extra antioxidant boost.

Dark Chocolate Peanut Butter Drizzled S'mores Trail Mix
Instructions
In a small microwave safe bowl (I used a ramekin), heat 3 tbsp of chocolate chips and 2 tbsp of peanut butter chips in the microwave using 20 second increments until melted. Stir after each increment to prevent burning.
Cut graham crackers into ½ inch sized pieces.
Mix pistachios, macadamia nuts, cashews, marshmallows, graham crackers, and remaining chocolate and peanut butter chips together in a large bowl. Dust with cinnamon.
Drizzle with melted chocolate and peanut butter chips.
Notes
If you want a salty, sweet taste combination, feel free to sprinkle a pinch of kosher salt on top. It is so good!
Disclaimer: This is an entry for a contest held by Nuts.com but is not a sponsored post by them. All items were self-purchased and all opinions on ETG are our own.