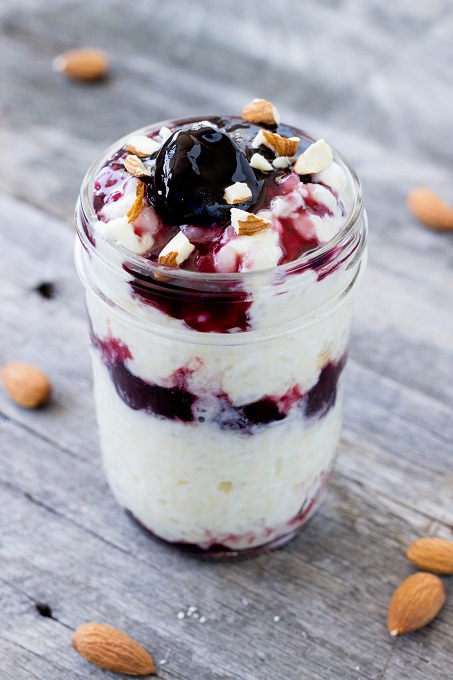 I just made an incredibly creamy and delicious dessert. Guys, it's amazing. Allow me to introduce risalamande! It's a traditional Danish rice pudding covered in a warm cherry sauce. Life is just better with warm cherry sauce!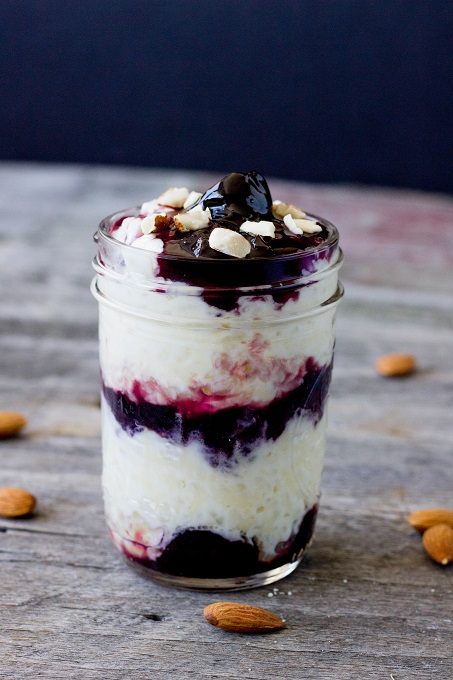 Our friend Trish hosts a Global Feast each month that features foods from around the world. She started with the letter A and has deliciously worked her way through the alphabet. This month, the letter D brought Trish to Denmark! She came up with an amazing menu of Danish Split Pea Soup with Dill, Smorrebrod (dark rye bread) and Akvavit Mule (cocktail flavored with fresh herbs and spices).
Here is Trish's gorgeous Danish Split Pea Soup with Dill, head on over to her awesome blog Rhubarbarians for the recipe: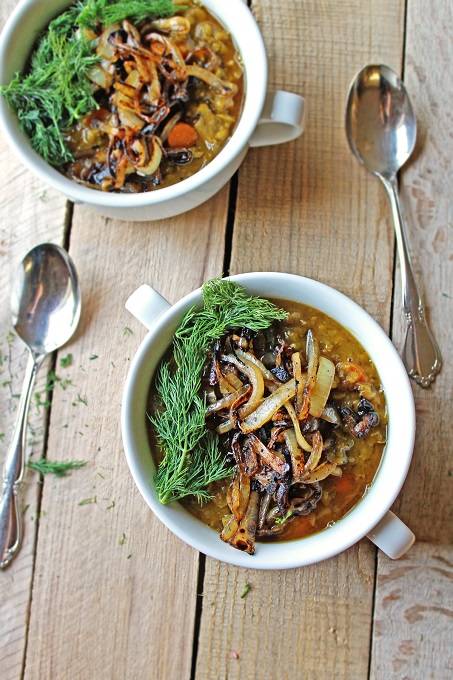 I joined in on the Global Feasts fun and whipped up a traditional Danish dessert called Risalamande. It is traditionally eaten during Christmas, but I couldn't resist making it this week! Since it's made with rice, whipped cream, almonds, and vanilla, it was only served during special occasions because the ingredients were so expensive back in the day. After WWII, the ingredients became more affordable and rice pudding made a regular appearance on Danish dinner tables.
Also, eating risalamande can turn into a competitive sport! One whole almond is usually added to the dessert and whoever finds it in their bowl wins a prize! In case you were wondering, Josie found the almond in her bowl. Looks like I'll have to have to make this dessert again for a rematch.
Hope you enjoy making this dessert!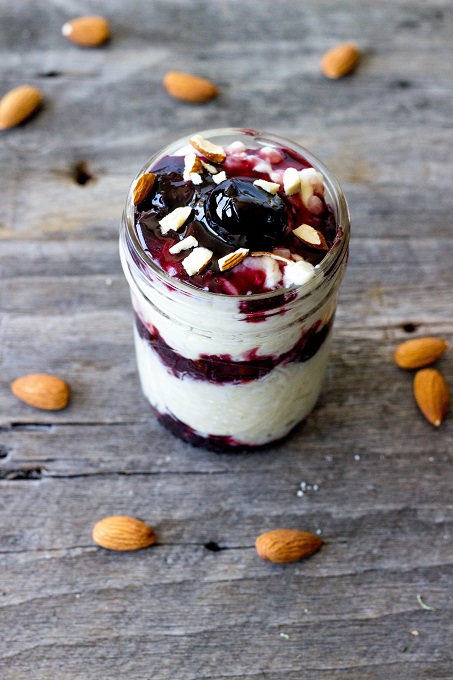 Danish Rice Pudding with Warm Cherry Sauce Notes:
-Although this dessert is traditionally made with cherries, feel free to substitute with your favorite berry. You may need to adjust the amount of sugar depending on the fruit that you use.

Danish Rice Pudding with Warm Cherry Sauce (Risalamande)
Ingredients
2.25 cups whole milk (grass-fed if possible)
¼ tsp vanilla powder
⅛ tsp cinnamon
½ cup white short-grain rice (also called sushi rice)
1 cup cream
2.5 tbsp organic cane sugar
¾ cup frozen dark sweet cherries
4 tbsp water
¼ tbsp lime juice
1 tsp cornstarch
½ cup chopped almonds (or to taste)
Instructions
To make the rice pudding:
Mix the milk, ⅛ tsp of the vanilla powder, cinnamon and rice together in a pot.
Cover and cook on medium-low heat for approx 20 mins, stirring often so that the rice does not stick to the bottom of the pot and burn. Once the rice is tender, remove from heat.
To make the whipped cream:
Stir 1 cup cream and 1 tbsp of sugar together in a mixing bowl. Using a mixer, beat the cream until stiff peaks form.
To make the cherry sauce:
Simmer the cherries, lime juice, 1.5 tbsp sugar, vanilla powder, and 2 tbsp water on medium- low heat.
In a separate bowl, mix the water and cornstarch together to make a slurry, and then add to this to the cherries once they start to boil.
When the sauce starts to thicken, remove from heat.
Gently fold the rice and almonds into the whipped cream and top with warm cherry sauce.